Coronavirus Observatory: Tracking the Pandemic in the Arctic and the Antarctic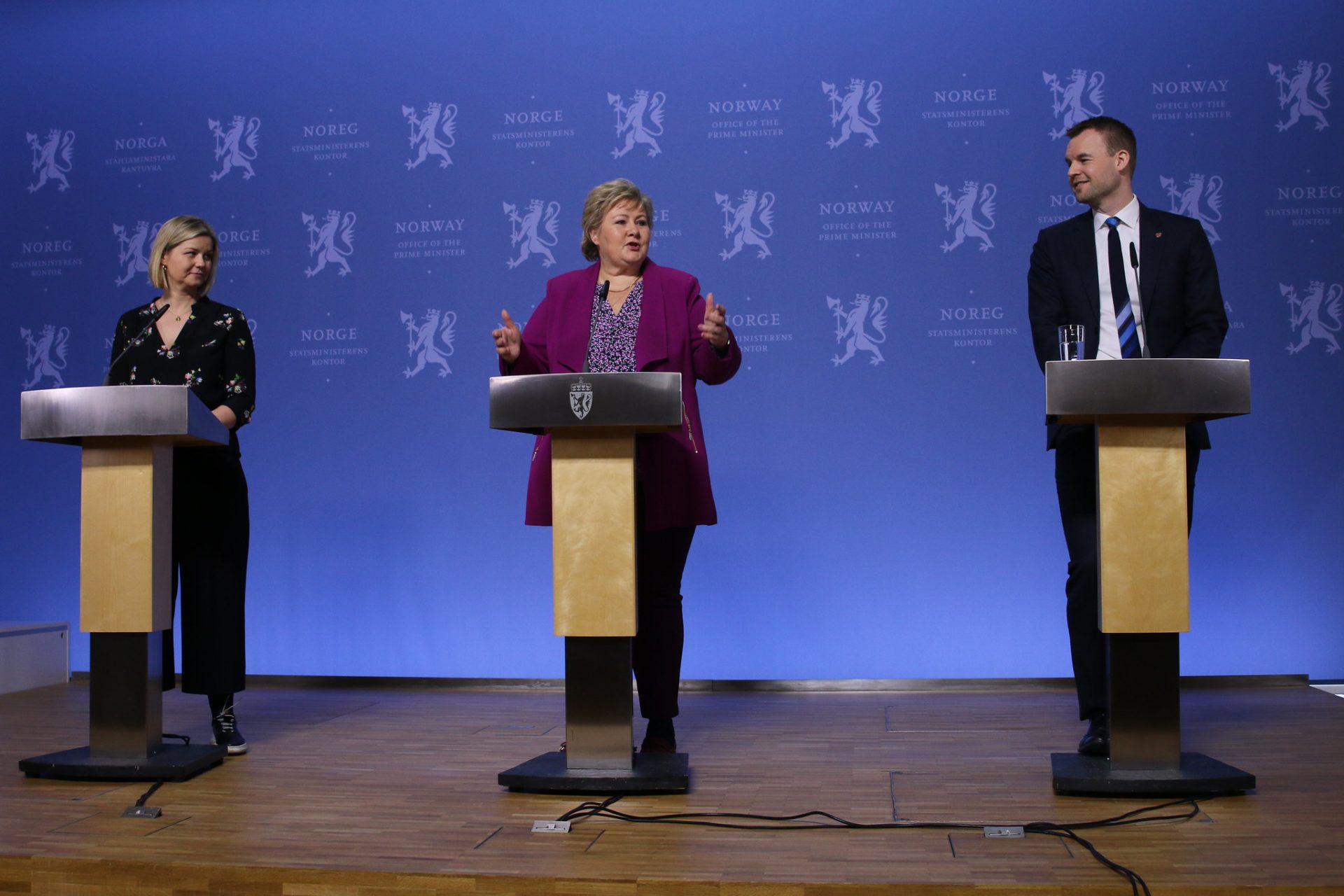 Norway's Prime Minister Erna Solberg discusses the COVID-19 pandemic at the Norwegian Government's press conference for children, 16 March 2020. Photo: Eirin Larsen, SMK (Statsministerens kontor/Flickr).
---
Max Daniels and Dr Dwayne Ryan Menezes
---
Day by day, hour by hour, all walks of life are altering, shutting down and closing off. Governments, economies and wider society are scrambling to react to the spread of the virus, and the Polar Regions are not immune to the disruption that is being wreaked by the new strain of coronavirus, COVID-19. As conferences are postponed, supply chains fragmented and research placed at risk, it is ever more difficult to carry on as usual in the Arctic and the Antarctic. The virus and policies made in response pose very real risks to trade and tourism, but also to scientific research and the ability to form long-term policy. We need a coherent and clear response at both national and international levels. Mishandled policy or a descent into petty nationalism could be equally damaging to already strained international relations, as it would to life in the Polar Regions.
The following report tracks the spread of, and responses to, the pandemic  across the Arctic and the Antarctic. The team will be monitoring the situation regularly and updating the report three times a day, so stay tuned for the latest figures and measures. The states covered include the US (Alaska), Canada (Yukon, Northwest Territories and Nunavut), Greenland, Iceland, Faroe Islands, Denmark, Norway, Sweden, Finland and Russia.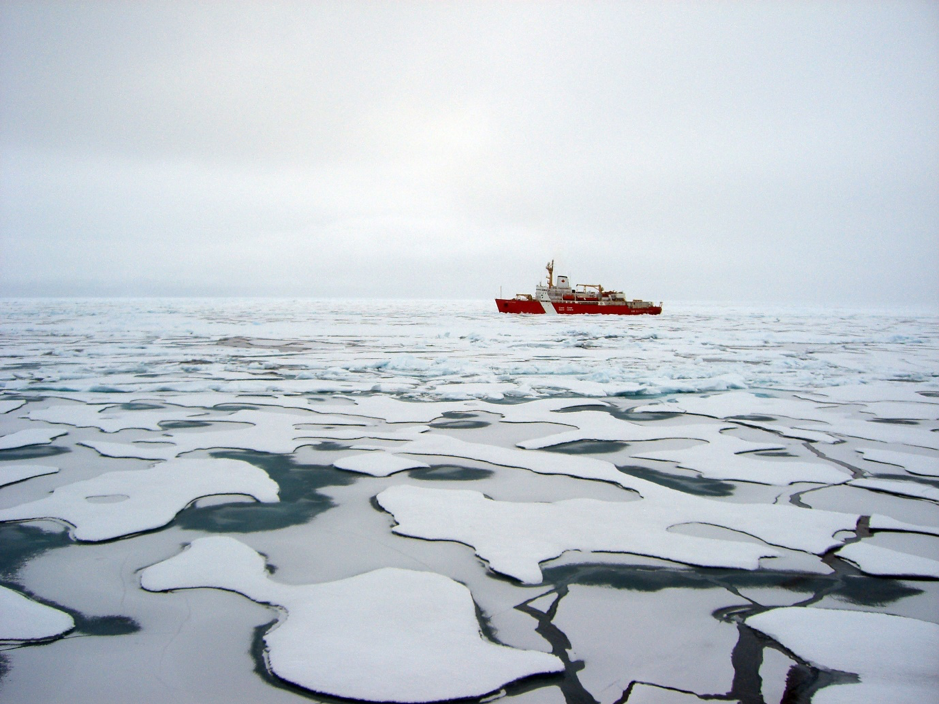 Image: Ocean conferences and Arctic fisheries alike have been disrupted by COVID-19. It risks long-term damage to both. Source: U.S. Office of Ocean and Polar Affairs.[i]
---
Arctic States: Confirmed Cases of COVID-19
Each of the eight Arctic Council members now has recorded cases of COVID-19. Here are the latest figures:
Alaska (US): 370 confirmed cases (1 in Nome Census Area, 83 in Fairbanks North Star Borough, 1 in Southeast Fairbanks Census Area, 1 in Yukon-Koyukuk Census Area, 21 in Matanuska-Susitna Borough, 22 in Kenai Peninsula Borough, 1 in Kodiak Island Borough, 189 in Anchorage Municipality, 27 in Juneau City and Borough, 4 in Petersburg Borough, 2 in Prince of Wales-Hyder Census Area, 2 in Sitka City and Borough, 16 in Ketchikan Gateway Borough, 1 in Bethel Census Area), 9 deaths. 263 recovered.
Canada: 60,772 confirmed and 0 probable cases, 3,854 deaths. (There have been 11 confirmed cases in Yukon, 5 in the Northwest Territories, but no confirmed case in Nunavut. There are also 20 confirmed cases in Nunavik in northern Quebec and 6 in the Labrador-Grenfell Health Region, which includes Nunatsiavut.)
Denmark: 9,821 confirmed cases, 493 deaths. 257,738 tested. 
Greenland: 11 confirmed cases (all in Sermersooq Municipality), 0 deaths. 11 recovered. 1,294 tested. 
Faroe Islands: 187 confirmed cases, 0 deaths. 178 recovered. 8,066 tested.  
Finland: 5,412 confirmed cases (195 in Lapland, 128 in North Ostrobothnia, 63 in Kainuu, 13 in Central Ostrobothnia, 37 in South Ostrobothnia, 51 in the Vaasa region, 127 in Central Finland, 125 in Northern Savonia, 24 in North Karelia, 3,787 in Uusimaa, 236 in the Tampere region), 240 deaths. 103,500 tested.
Iceland: 1,799 confirmed cases (1,312 in Greater Reykjavik, 77 in Suðurnes Peninsula, 178 in South Iceland, 8 in East Iceland, 46 in Northeast Iceland, 35 in Northwest Iceland, 97 in the West Fjords, 43 in West Iceland, 2 unknown, and 1 abroad), 9 deaths (one being an Australian tourist, who was diagnosed with COVID-19 but whose death is not believed to be the result of the virus.) 1,723 recovered. 50,477 tested. 
Norway: According to FHI, there are 7,903 confirmed cases (245 positive cases in Troms and Finnmark, 115 in Nordland, 498 in Trøndelag, 123 in Møre and Romsdal, 446 in Innlandet, 2,416 in Oslo), 209 deaths. 189,657 tested.
Sweden: 22,721 confirmed cases (271 in Norrbotten, 330 in Västerbotten, 359 in Jämtland, 276 in Västernorrland, 856 in Dalarna, 635 in Gävleborg, 8,536 in Stockholm), 2,769 deaths. 
Russia: 155,370 confirmed cases (80,115 in Moscow, 15,761 in Moscow Oblast, 5,572 in Saint Petersburg, 566 in Kaliningrad Oblast, 214 in Pskov Oblast, 1,149 in Leningrad Oblast, 399 in Novgorod Oblast, 709 in Tver Oblast, 534 in Smolensk Oblast, 829 in Yaroslavl Oblast, 1,287 in Bryansk Oblast, 1,309 in Kaluga Oblast, 944 in Vladimir Oblast, 515 in Ivanovo Oblast, 278 in Kostroma Oblast, 230 in Vologda Oblast, 2,101 in Murmansk Oblast, 91 in Republic of Karelia, 305 in Arkhangelsk Oblast, 47 in Nenets Autonomous Okrug, 698 in Komi Republic, 3,026 in Nizhny Novgorod Oblast, 644 in Kirov Oblast, 648 in Perm Krai, 1,277 in Sverdlovsk Oblast, 589 in Tyumen Oblast, 820 in Yamalo-Nenets Autonomous Okrug, 508 in Khanty-Mansi Autonomous Okrug, 868 in Krasnoyarsk Krai, 200 in Irkutsk Oblast, 331 in Yakutia, 131 in Magadan Oblast, 25 in Chukotka Autonomous Okrug, 347 in Kamchatka Krai), 1,451 deaths. 19,865 recovered.
---
Arctic States: Measures to Address COVID-19 Pandemic
Alaska
On 11 March, Governor Mike Dunleavy issued a Public Health Disaster Emergency Declaration, ushering a unified command structure between the Alaska Department of Health and Social Services (DHSS), Alaska Department of Military and Veterans Affairs (DMVA) and the Department of Public Safety (DPS). The State of Alaska has issued 12 health mandates and numerous health alerts since to "mitigate the impact of COVID-19", "flatten the curve" and and "disrupt the spread of the virus". A violation of a state COVID-19 mandate by a business or organisation could result in an order to cease operations, and/or a civil fine of up to $1,000 per violation, and, under certain circumstances, a person or organisation may also be criminally prosecuted for Reckless Endangerment pursuant to Alaska Statute 11.41.250. As reckless endangerment if a class A demeanour, a person convicted could face a sentence of a definite term of imprisonment of not more than one year and a fine of up to $25,000. A business, likewise, could face a fine of up to $2,500,000 for a misdemeanour offence that results in death, or $500,000 for a misdemeanour offence that does not result in death. The mandates and health alerts advise/recommend/mandate the following:
Social distancing: As of 20 March, Alaskans were advised to limit all close contacts (people outside the family unit) to be a distance over 6 feet from each other. From 28 March, all persons in Alaska are mandated to stay in their place of residence and practice social distancing, defined as maintaining a distance of six feet or greater from any individuals with whom one does not currently reside. The only exceptions are for those engaged in essential health care services, public government services and essential business activities. Outdoor activity (such as walking, running, hiking, bicycling, fishing or hunting) is only permitted when social distancing can be maintained. One must not participate in any public or private gathering that includes people not from one's household, irrespective of the size of that gathering. This would also apply to weddings, faith gatherings, graduations and funerals. This mandate supersedes any local government or tribal mandate, directive, or order.
Closures (state-wide) – Educational institutions: Early mandates rendered scheduled public school days between 16 March and 30 March non-student contact days (in which students do not attend school) and suspended after-school activities in this period, but, as of 20 March, a new mandate requires all public and private schools to remain shut – and all after-school activities suspended – until 1 May. The mandates also require residential school programs to return students to their families and home communities by 27 March. 
Closures (state-wide) – Civic institutions and businesses: The health mandates also close down public access to libraries, archives and museums from 17 March; all restaurants, bars, breweries, and food and beverage trucks to public dine-in service from 18 March (and encourage the adoption of delivery service, window service, walk-up service, drive-through service or drive-up service instead); and entertainment facilities (such as theatres, gyms, fitness centres, bowling alleys and bingo halls). As of 23 March, the new health mandates banned all gatherings of more than 10 people and extended the closure of operations of personal care establishments across the State of Alaska. As of 27 March, and from 28 March, one must not participate in any public or private gathering that includes people not from one's household, irrespective of the size of that gathering. Furthermore, all businesses within Alaska, be they for-profit, non-profit or educational, with the exception of those listed in Alaska Essential Services and Critical Workforce Infrastructure Order, have to cease all activities at facilities located within the state, except for what the mandates define as Minimum Basic Operations.
Restricted visits to state institutes: The health mandates suspend or limit visitation by the general public to state institutes (Suspended: Department of Corrections (DOC) Facilities, Division of Juvenile Justice Facilities, Alaska Military Youth Academy and Alaska Psychiatric Institute; Limited: Alaska Pioneer Homes).
Medical procedures: The health mandates require that all non-urgent and elective medical procedures and all elective and non-essential dental procedures be postponed or canceled to minimise the stress on the state's health infrastructure.
Travel (general): As of 17 March, travel advice (specified in the health mandates) required those arriving in Alaska from areas with ongoing community spread (such as China, Europe and other areas falling under CDC Level 3 Travel Health Notice Area) in the previous 14 days to self-isolate for 14 days, and for those who have travelled anywhere outside Alaska, including to the rest of the United States, within the previous 14 days to maintain a distance of six feet from others, avoid crowded places and limit public activities. As of 20 March, all travellers returning from a Level 3 area are mandated to self-quarantine for 14 days, and any returning resident or worker is expected to self-isolate for 14 days after their return. As of 23 March, anyone arriving in Alaska from domestic or international travel is required to enter into mandatory quarantine, and businesses and employees of critical infrastructure have to detail the measures they are taking to restrict the spread of COVID-19. Any breach could be penalised with a fine of $25,000, or a one year of prison, or both.
Travel (out-of-state): The health mandate of 20 March requires that all Alaskans cease non-essential out-of-state personal, business and medical travel; encourages Alaskans out of state to return home now if they had planned to do so within the next 30 days; advises that any tourist and non-essential business travel to Alaska be suspended; advises visitors to Alaska to return to their home communities; and requires that tour operators suspend reservations for out-of-state visitors immediately. They also mandate airlines operating interstate travel and airports to post the travel recommendations prominently, and they require that businesses depending on interstate travel assess their travel needs immediately, restrict the movement of personnel or travel for emergency reasons only, expect travelling employees to self-isolate for 14 days on their arrival in Alaska. As of 23 March, anyone arriving in Alaska from domestic or international travel is required to enter into mandatory quarantine.
Travel (in-state): Likewise, as of 23 March, the health mandates strongly advised Alaskans and non-residents to stop non-essential in-state long-distance personal, business, or medical travel, especially to remote areas with limited medical resources. They also mandated all air, road and maritime services operating in Alaska to post these travel recommendations on the web and in their terminals, and all airports, ports, and bus terminals to post the same prominently. Any tour operator moving clients long distances across Alaska were also strongly advised to consider suspending operations. The mandate also expected travellers who leave communities with known cases of COVID-19 to self-isolate for 2 weeks upon arrival in their destination communities and thereafter to monitor for illness and follow social distancing advice.
As of 27 March, and going to effect on 28 March, the new health mandate goes further to prohibit all in-state travel between communities, whether resident, worker, or visitor, unless travel is to support critical infrastructure or for critical personal needs. Certain Small Alaskan communities may implement further travel restrictions, but the new mandate supersedes any previous local government or tribal mandate, directive, or order restricting intrastate travel. Critical personal needs include buying/selling/delivering groceries and home goods; obtaining fuel for vehicles or residential needs; transporting family members for out-of-home care, essential health needs or for purposes of child custody exchanges; receiving essential health care or providing essential health care to a family member; obtaining other important goods; and engaging in subsistence activities. Travellers are expected to follow social distancing measures. Persons travelling to or from any community for critical reasons or critical personal travel are not subject to any automatic quarantine or isolation on arrival, unless as allowed under Alaska Statutes or Health Mandates. 
Community-specific measures (Fairbanks and Ketchikan): As Fairbanks has reported the highest number of cases so far, and with the number of cases also rising in Ketchikan, a more recent health mandate (20 March) bans personal care services such as day spas, massage therapy salons, nail and hair salons, tattoo parlours, tanning facilities and barber shops, as well as businesses, congregations and gatherings where people would be within 6 feet of one another, within the Fairbanks North Star Borough and Ketchikan Gateway Borough. The mandate does not apply to urgent or emergency health care needs. Furthermore, it bans gatherings of more than 10 people in the two boroughs, and requires that gatherings that do take place keep people at least 6 feet apart. As of 20 March, officials in the Greater Ketchikan Area have issued a Joint Proclamation under State of Emergency to Shelter in Place, strongly advising  residents in the City of Ketchikan, City of Saxman and Ketchikan Gateway Borough to "hunker down and shelter in place"; shop at grocery stores without lingering; stay home and work from home as much as possible; conduct business remotely; and close down non-essential business for 14 days as much as possible. As of 23 March, the new health mandates banned all gatherings of more than 10 people and extended the closure of operations of personal care establishments across the State of Alaska. 
Community-specific measures (Anchorage): In Anchorage, the Mayor Ethan Berkowitz has announced an emergency declaration on 12 March and issued three emergency orders since. The first (16 March) prohibited dine-in service at bars, breweries, restaurants, food and beverage kiosks; closed movie theatres, gyms and bingo halls to the public; and banned all large events and mass gatherings of 50 or more. The second (19 March) ordered dentists, veterinarians, ophthalmologists and optometrists to cancel or postpone all non-urgent or non-emergency procedures; and all medical workers and businesses to conserve all stocks of personal protective gear and equipment for healthcare workers responding to COVID-19, including gloves, gowns and face masks. The third (20 March) instructed residents in the Municipality to "hunker down" and stay at home as much as possible, all at-risk (anyone over the age of 60 or with a serious underlying medical condition) to stay at home, and anyone who has travelled outside the Municipality recently to stay at home as much as possible for 14 days; and required all non-critical businesses to close their premises and shift to telecommuting and remote working. As of 23 March, the new state-issued health mandates banned all gatherings of more than 10 people and extended the closure of operations of personal care establishments across the State of Alaska.
Health alerts: Over the past 14 days, DHSS has also issued a number of health alerts advising the general public to avoid large gatherings and crowded places; persons in rural areas to limit non-essential travel; persons aged over 60 or with underlying medical conditions against attending the ASAA regional/conference basketball tournaments (10-14 March); businesses to adjust or postpone large meetings or gatherings; and child care centres to not allow any ill child, child who has been out of Alaska in the previous 14 days, any worker with a fever or respiratory symptoms, or anyone over the age of 60 or with underlying medical conditions in a child care centre. Child care centres are also advised to limit numbers to below 10 for group settings. 
Economic Measures: On 16 March, Alaska Governor Dunleavy signed two bills into law, one providing $4 million in state funds for the state health department and allowing the state to accept federal funds for the COVID-19 response, and the other requiring health insurers to provide coverage for telehealth benefits.  On 17 March, Dunleavy announced the creation of the Alaska Economic Stabilization Team (AEST), a bipartisan group of leaders – led by former Governor Sean Parnell and former US Senator Mark Begich – that will work on a plan to protect the state's economy from the impact of COVID-19. For further information about AEST's work, the Governor's 6 Point Stabilisation Plan, and resources for Alaskans economically impacted by the pandemic, click here for updates.
Miscellaneous: Following the border closure announcement by US President Donald Trump and Canadian Prime Minister Justin Trudeau on 18 March, Alaska's land border with Canada has been closed to all but essential traffic, along with the rest of the country's vast border with Canada. Following the cancellation of the Arctic Winter Games in Whitehorse, the visit of the Premier of Greenland to Alaska, scheduled to take place from 17-20 March, has had to be be indefinitely postponed as well. Also noteworthy is that Alaska Airlines revealed that it would reduce capacity by at least 10% in April and 15% in May, introduce a hiring freeze, suspend at least $300 million of capital spending, suspend share repurchases, pursue additional borrowing of $500 million, and its CEO and President would not take a salary. As of 24 March,  it was reported that Alaska Airlines would cut 200 flights a day (15%) until 31 March. In addition, Alaska's state ferry system, the Alaska Marine Highway System (AMHS), is required to immediately report to federal authorities any illness of persons on board, and AMHS has said that it would turn away persons with coronavirus- or flu-like symptoms. 
For further information, click here and here. 
Canada
Federal Response (Travel): The Government of Canada has advised Canadians against all non-essential travel outside Canada. As of 16 March, all travellers entering Canada are expected to enter into self-isolation for 2 weeks after their arrival. As of 18 March, Canada has banned foreign nationals from entering Canada, with exceptions made only for Americans and for air crews, permanent residents, transit passengers, diplomats and immediate family of Canadian citizens. Furthermore, Canada will redirect all international passenger flights to four airports (Calgary International Airport, Vancouver International Airport, Toronto-Pearson International Airport and Montréal-Pierre Elliott Trudeau International Airport), with exceptions made for domestic flights and flights to/from the US, Mexico, the Caribbean and St. Pierre-et-Miquelon. The federal government has also introduced a COVID-19 Emergency Loan Program for Canadians Abroad to assist Canadians return home or deal with other travel-related challenges. As noted earlier, restrictions have also been imposed on the Canada-US border.
Federal Response (General): The federal government has announced a $107 billion COVID Economic Response Plan, in the form of wage subsidies and tax deferrals. In consultation with provincial and territorial premiers, the Cabinet is still deciding whether to invoke the Emergencies Act, which would grant extensive, short-term powers of regulation to the government. All premiers have unanimously agreed that the Emergencies Act is not needed at this time. The federal government has also committed $306 million in funding for Indigenous businesses struggling with the impacts of COVID-19.
Federal Response (North/Territories): The federal government's northern-specific response to this crisis has been extensive: from restricting vessel traffic in the Canadian Arctic, including preventing any Canadian cruise ship from mooring, navigating, and transiting Canada's Arctic Waters, to a recent commitment to provide $129.9 million in assistance to the territories during the pandemic. In a recent press release (see here), the federal government has committed to:

$72.6 million for health and social services departments to prepare and respond to the crisis

$18.4 million for Yukon
$30.8 million for Nunavut
$23.4 million for NWT

$17.3 million for northern airline companies to ensure movement of essential goods such as food and medical supplies

$3.6 million for Yukon
$5 million for Nunavut
$8.7 million for NWT

$15 million in "non-repayable support" for businesses in the territories will be made available by the Canadian Northern Economic Development Agency (CanNor)
Additional $25 million for Nutrition North Canada to subsidise food and hygiene products in remote northern communities.

Territories' Response (State of Emergency): In Canada's North, the three territories – Nunavut, Northwest Territories (NWT) and Yukon – each declared a state of emergency on 18 March.
Yukon Response (Travel): In Yukon, persons who have travelled outside Canada in the previous 14 days have been asked to self-isolate, while persons who have travelled outside Yukon in the previous 14 days have been banned from visiting hospitals. As of 22 March, Yukon has suspended all non-essential travel into and out of Yukon; advised Yukoners planning to return in next 30 days to do so immediately and self-isolate for 14 days; and advised Yukoners to suspend all non-essential travel to rural communities. 
NWT Response (Travel): In NWT, travellers from outside Canada are required to self-isolate for 14 days, while travellers from within Canada are required to self-monitor for 14 days. As of 20 March, although travel within each territory was not restricted, residents have been advised against international travel and travel to the rest of Canada. From 21 March, NWT is closing its borders and prohibiting all travel by air, land, and sea into the territory, with limited exceptions. Anyone returning to the territory, who qualifies for entry, will be required to self-isolate for 14 days in Yellowknife, Fort Smith, Hay River or Inuvik; those in breach will face fines of up to $10,000 and six-months imprisonment. On 21 March, NWT reported its first confirmed case, just hours before it shut its border. 
Nunavut Response (Travel): In Nunavut, measures include an order for anyone arriving in the territory to go into mandatory self-isolation for 14 days, with an exception made for people from southern Canada entering to provide essential services (such as RCMP, healthcare or municipalities); they will only undergo enhanced screening and daily check-ins. However, if these workers are travelling from high-risk areas, no exception will be made.
Yukon Response (Closures and Restrictions): Yukon has suspended classes at public schools for the remainder of the 2019-2020 school year; closed all public indoor recreational facilities, libraries and hospitals to visitors until further notice; closed bars until further notice; reduced seating in restaurants by 50% and, as of 26 March, will only allow take-out and delivery; closed all hair salons, barber shops, tattoo parlours, nail salons and massage therapists from 25 March; and banned gatherings of more than 10. At the territory's three hospitals, only two people will be permitted to visit maternity/newborn patients, sick children, patients at end of life or in emergency situations. International school trips, including those to Alaska, have been cancelled. 
NWT Response (Closures and Restrictions): In NWT, the government had initially advised against all mass gatherings of more than 50 people and restricted visits to long-term care facilities and acute care sites. As of 22 March, NWT has advised the cancellation of all gatherings, irrespective of size, number of participations, and whether it will be indoors or outdoors; and has also recommended the closure of all tour operators, bottle depots, gyms and fitness centres, museums and art galleries, bars and nightclubs, theatres, buffet-style restaurants, barber shops, hair/nail salons, massage therapists and other personal service establishments. 
Nunavut Response (Closures and Restrictions): Nunavut has ordered the closure of bars, and that restaurants and food services only offer takeaway options. Gatherings at churches have also been suspended, and governments workers are expected to carry on their work from home. Taxis in Nunavut can now cater only to one pick-up per fare.
Event Cancellations: Across the North, numerous social and sporting events have been cancelled, including the Arctic Winter Games, the Kilrich Native Hockey Tournament and the Yukon Comedy Festival in Yukon; the Snowking's Winter Festival, the Dene Nation Education Summit, the NWT Super Soccer Championships and other sporting tournaments in NWT; and the Nunavut Mining Symposium and the Toonik Time Festival in Nunavut.
Aviation: Canadian North and Air Inuit have announced reduced services to Arctic communities. Air Canada is expected to lay off more than 5,100 crew members, amidst cuts to its planned flights by nearly 80%.
Before Yukon, the Northwest Territories and Nunavut had recorded any cases, the Inuit Circumpolar Council had warned that indigenous communities across the North are particularly vulnerable to the effects of the virus, given many do not have running water or sewage systems. In a statement, the ICC said that, "Despite being the original inhabitants of some of the most affluent countries in the world, gaps in basic infrastructure continue to contribute to severe health risks."[ii] Closing this 'infrastructure gap' was an area of discussion at a meeting of the Inuit-Crown Partnership Committee on 6 March, attended by Prime Minister Justin Trudeau (who himself has since entered self-isolation following the positive diagnosis of his wife) and President Natan Obed.[iii] It remains to be seen whether these circumstances will encourage such discussions to transform into action.
For further information, click here and here. 
Kingdom of Denmark
Within the Kingdom of Denmark, while Denmark has borne the brunt of cases, Greenland has recently reported its first cases. As a response, Greenland closed off the capital, Nuuk, from 18 March, and banned gatherings of 10 or more. All educational institutions have been closed, while flights to and from Greenland, as well as internally, have been grounded from midnight on 20 March until 3 April. At least until 13 April, although residents in Greenland are allowed to enter, one may not enter for reasons such as tourism and visiting family; international visitors already in Greenland may leave anytime. Air Greenland and Air Iceland Connect have both introduced a number of measures, and anyone planning to travel on either or holding a ticket on either is advised to check their websites before travel. 
In the Faroe Islands, the Faroese government introduced various measures since the outbreak: as of 12 March, it strongly discouraged non-essential international travel; applied restrictions on visits to nursing homes and hospitals; closed down the school system; advised non-essential public sector employees to work from home; closed down bars, restaurants and other venues; and urged municipalities to take measures in relation to incoming cruise ships. As of 17 March, it prohibited gatherings of more than 10, indoors or outdoors. These measures will be in place at least until 13 April.
On 12 March, the Faroese shipping company, Smyril Line, announced it would stop shipping passengers. On 15 March, the Faroese government announced a business support package, with a range of measures, including committing to paying back the salaries of workers the government has asked to be in quarantine; and ensuring that the Faroese Employment Office would make up for lost income (at a percentage of maximum payment) when workers have been asked to work reduced hours. On 16 March, Faroese banks, such as Betri Banki and BankNordik, announced they would grant customers respite for 6 months; on 20 March, Betri Banki went further and donated DKK 10 million to the Faroese hospital service. On 17 March, Atlantic Airways stopped flying passengers on their flights (reserving the flights only for essential workers and patients who need to fly between Vagar and Copenhagen); and Scandinavian Airlines stopped flying to the Faroe Islands. As of 19 Magn and Effo also announced they would shut all gas station shops for the time-being.  
The temporary ban on outdoor and indoor events and activities involving more than 10 people, as well as the temporary ban on restaurants, clubs, bars, shopping centres, and indoor sports and recreational facilities also became effective in Denmark on 18 March and is expected to apply at least until 13 April, with fines for non-compliance. As the second country in Europe to impose a national lockdown, Denmark has required – as of 13 March – that all non-essential public sector employees stay home for two weeks, and has urged private sector employers to follow suit for the same period and encourage remote working if possible. All private schools and daycare centres, as well as secondary educational institutions (such as gymnasiums) and universities, have been closed for the same period;    municipalities have set up temporary daycare centres for cases where parents cannot stay at home to look after them; and grandparents are advised not to take care of children.
As of 9 March, passengers on flights originating in high-risk regions would be picked up directly from their planes (before they entered the airport building) and transported to their homes or other localities for quarantine. As of 11 March, flights from high-risk regions were cancelled. On 13 March, the Danish government advised against non-essential international travel; introduced restrictions (such as quarantine) on foreign workers; and encouraged Danish nationals to return home as soon as possible.  From 14 March until 13 April, Denmark has shut its borders, with exemptions made only for the transportation of cargo, international visitors intending to leave Denmark, visitors with an important reason for being in Denmark, and Danish citizens and residents returning to Denmark. Danes returning to Denmark from overseas are strongly advised to self-isolate at home for two weeks on arrival. For further information, click here, here, here, here and here. 
Iceland
Iceland declared a state of emergency on 6 March, followed by a ban on gatherings over 100 people and the closure of secondary and higher education providers. As of 20 March, Iceland has advised parents and guardians to reduce the number of people in their children's contact network outside of school. From 19 March, Iceland also requires that all Icelandic nationals and residents returning to Iceland from abroad to quarantine themselves for two weeks on arrival. The country has been testing extensively for COVID-19 to monitor and contain the virus. The government warned on 17 March that it may need to increase borrowing 'markedly' to combat the disease. For further information, click here. 
Norway
On 12 March, Norway announced, in the words of its Prime Minister Erna Solberg, "the most far-reaching measures Norway's population has ever experienced in peacetime." While the emergency measures were initially instituted to be valid until 26 March, these have now been extended until 13 April.
International Travel: Norway has shut its ports and airports from 16 March (with exceptions made for cargo and returning Norwegians); implemented extensive controls along its border (but left its border with Sweden open); restricted all non-essential travel to the country; and liaised with Norwegian Air and SAS to get its citizens home. It has insisted that anyone who has travelled outside the Nordic region since 27 February enters into home quarantine for 2 weeks upon one's return. The regulation was updated on 17 March to require all visitors (including those from or visiting the Nordic region) to be quarantined on arrival in Norway. It has also prohibited all healthcare professionals working in patient care from travelling overseas, whether for private or business reasons, from 12 March until April.
Domestic Travel: Northern counties in Norway have also imposed their own restrictions, including on incoming domestic travellers from the southern counties. The municipal government in Tromsø announced that all travellers from the 8 southern counties of Norway, including residents of Tromsø returning home, would be quarantined for two weeks on arrival from 10 March, with the reasoning that Tromsø had the special responsibility to reduce the risk of infection in northern Norway.[iv] Similar measures are reported to have been taken in Lofoten, Vesterålen and Kirkenes.[v] On 14 March, the Governor of Svalbard also announced that all persons arriving in Norway from places other than Sweden and Finland must be quarantined on the mainland before flying to Svalbard, and that residents of Svalbard as well should not travel home until they have completed the quarantine period.[vi] 
Closures and Restrictions: Furthermore, Norway has advised against visiting institutions for the elderly and other at-risk groups, and asking elderly relatives to assist with childcare; and has imposed restrictions on visitors to health institutions. Norway has also closed all kindergartens, schools and universities from 12 March until 13 April; banned cultural events, sports events (indoor and outdoor), gyms, all hospitality establishments (except where food is served and which can allow visitors to maintain a distance of at least 1 metre, but not buffets), swimming pools, water parks, and personal care companies (such as hairdressers, masseurs, skin care and body care salons, and tattooing and piercing salons).
Military Exercises: In addition, the Norwegian military began a 'controlled cancelling' of the NATO Cold Response exercise in northern Norway, involving over 15,000 personnel from 9 forces, in part to free up military doctors and troops to respond to the impacts of the virus.[vii] Its northern border with Finland has also closed.
Aviation: As of 5 March, Norwegian Air had cancelled 22 long-haul flights (including between London and New York) from 28 March until 5 May. On 16 March, it cancelled 85% of its flights and temporarily laid off 7,300 employees (90% of its workforce). As of 20 March, the Norwegian government agreed to offer 50% of its 6 billion NOK ($543 million) state-aid crisis package to Norwegian – as state guarantees for bank loans. Likewise, the domestic airline Widerøe will receive 25% of the crisis package, along with income guarantees for its public service obligation routes, while the region's international airline Scandinavian Airlines (SAS) received the remaining 25% of the aid package. As of 16 March, SAS had decided to temporarily lay off 90% of its workforce (around 10,000 employees). SAS has also been offered state-backed credit guarantees from the Danish and Swedish governments to the tune of SEK 3 billion ($302 million). Sweden will also offer SEK 3.5 billion ($350 million) in credit guarantees to other airlines (domestic and medical).
Cruise industry: As of 19 March, Hurtigruten, the world's largest expedition cruise operator, had announced that it would be suspending its operations along the coast of Norway until 19 April, and its Expedition cruises until 28 April.[viii] 14 of its 16 vessels have been taken out of service, and around 3,000 employees have been laid off.
For further information about Norway's measures to address the COVID-19 pandemic, click here and here. 
Sweden
Travel: Sweden has temporarily banned all non-essential travel to the country from countries outside the EEA and Switzerland from 19 March, initially for 30 days, with exceptions made for Swedish citizens, as well as for EEA and Swiss citizens and their family members, and for people with long-term resident status in Sweden or another EU member state, or a temporary or permanent resident permit in Sweden, Switzerland or another EEA State, or a national visa for Sweden, provided the reason is that they wish to return to their homes. People who transport goods, such as food and pharmaceuticals, as well as healthcare professionals and frontier workers, are also exempted from the ban. Essential travel is still permitted. 
Closures and Restrictions: From 12 March until further notice, public gatherings and events with more than 500 people have also been forbidden. Swedish authorities have also advised against visiting elderly relatives unless absolutely essential; against non-essential visits to hospitals or homes for the elderly; that those aged over 70 limit contact with other people as far as possible; and that one stay at home if one feels unwell and wait for at least two days following recovery before returning to work or school. Nevertheless, Sweden's measures still appear much lighter than those of its neighbours: unlike in Norway or Denmark, Sweden has allowed its kindergartens, schools, cafés and bars to remain open, though it has recommended that, from 18 March, high schools, municipal adult education, colleges, vocational schools and universities switch to distance education.
Aviation: As of 16 March, Scandinavian Airlines (SAS), partly owned by the Swedish and Danish governments, had decided to temporarily lay off 90% of its workforce (around 10,000 employees). SAS has been offered state-backed credit guarantees from the Danish and Swedish governments to the tune of SEK 3 billion ($302 million), with 25% of Norway's state-aid crisis package also reserved for SAS. Sweden will also offer SEK 3.5 billion ($350 million) in credit guarantees to other airlines (domestic and medical). As of 20 March, Sweden's state-owned airport owner-operator Swedavia has also temporarily laid off 1,900 workers, and given notice that 800 workers may be permanently laid off. It has also reported a drop in the number of passengers by 70-90%.
Miscellaneous: Meanwhile, Stockholm public transport operator SL has announced reduced timetables from 23 March, and domestic airline BRA has cancelled 12 of its 18 year-round routes that will also take effect on 23 March. Swedish truck maker Scania is halting production at most European units from 25 March, and Swedish car manufacturer Volvo Cars is stopping production in Sweden, the US and Belgium from 26 March, affecting 25,000 employees just in Sweden.
For further information, click here, here, here, here and here. 
Finland
On 16 March, the Government of Finland declared a state of emergency in Finland due to the coronavirus situation, and outlined measures that will be implemented in accordance with the Emergency Powers Act, the Communicable Diseases Act and other relevant legislation.
Travel: These measures include closing its borders to non-essential travel from 19 March, reducing the number of airports and border crossings that will remain open for cargo and return traffic, advising Finns against travelling abroad, recommending that Finnish citizens and permanent residents currently overseas return as soon as possible, and expecting all returnees to spend two weeks in quarantine. As of 25 March, the government also announced that it would restrict movement between the Uusimaa region (which includes Helsinki and the Greater Helsinki area) and the rest of Finland, with exceptions made only for cargo, as well as those who need to move for work reasons or to attend to the death of a relative. 
Closures and restrictions: The measures also include limiting public gatherings to 10 people, recommending the avoidance of unnecessary public meetings, and expecting the same guidelines to be followed by museums, theatres, libraries, archives, recreational facilities, swimming pools, sports facilities and clubs. The Finnish Government clarified that public gatherings referred to general meetings (such as demonstrations) and public events (such as open-air events, shows and competitions), but not indoor activities, such as sports and court games, visiting restaurants or municipal meetings. The measures also prohibit visits to housing units for the elderly and other at-risk groups.
Aviation: Finnair said it would cancel 1,500 to 2,000 flights from 16 March to 31 March, temporarily operate around 20 routes constituting critical air and cargo supply connections for Finland, and reduce capacity by 90% from 1 April. On 20 March, the Finnish government announced that it would provide Finnair with a state guarantee for its €600 million ($645 million) pension premium loan. Finnair CEO Topi Mannerdescribed the coronavirus outbreak as "already now the biggest crisis in the 100-year history of aviation".
Miscellaneous: On 20 March, Finland announced a 15 billion euros ($16.2 billion) aid package to keep the economy afloat.
For further information, click here, here and here. 
Russia
Travel (Border Closure): Russia has incrementally closed its borders, initially introducing restrictions on people from high-risk areas (such as China, South Korea and Iran early on; later, Italy; eventually, the US, UK and other EU and non-EU European countries); gradually suspending flights to EU countries, Norway and Switzerland (with the exceptions of national capitals and charter flights) and later also the US, UK and UAE; banning the entry of foreign nationals through Russia's borders with Norway and Poland; cancelling the rail links with Latvia, Moldova, Ukraine, Germany and France; and shutting its border with Belarus. The Russian government closed Russia's border with Norway, with only the border with Finland left open, though flights to Finland had been reduced. Nevertheless, the Governor of Murmansk, Andrey Chibis, warned residents not to travel to Finland (to which rail traffic ceased). As of 19 March, Moscow's Sheremetyevo Airport — the capital's main international transport hub — shut down two of its terminals, C and E. On 23 March, Russia restricted nearly all international flights, with exceptions made for certain international flights connecting Moscow and some national capitals, and charter flights taking foreign nationals back home and bringing Russians back to Russia. From 27 March, Russia suspended all regular and charter international flights, with an exception made only for those bringing Russians home. On 28 March, Russia announced its decision to temporarily restrict movement through automobile, railway, pedestrian, river and mixed checkpoints across Russia's state border, as well as through the land section of the Russian-Belarusian state border, from 30 March.
Travel: As of 16 March, Russia has temporarily banned foreign nationals from 18 March to 1 May, and instructed its Interior Ministry and territorial divisions to suspend the issue of entry invitations and labour permits for foreign nationals. Russia's diplomatic missions overseas have also stopped issuing of all types of visas (including e-visas). On 19 March, Russia announced that all people arriving in Russia from abroad must self-isolate for 2 weeks on arrival. 
Closures and restrictions (events and gatherings): As of 4 March, Russia banned the export of medical masks, gloves, bandages and protective suits. On 5 March, Russia announced that it would cancel the St Petersburg International Economic Forum, scheduled to take place in June. As of 10 March, Moscow banned all sporting, entertainment and mass/public events attended by over 5,000 people, with the ban valid until 10 April.[ix] On 11 March, the Moscow International Security Conference, scheduled for April, was cancelled. As of 13 March, St Petersburg and Leningrad banned events with more than 1,000 people. As of 16 March, Moscow banned all public events, as well as indoor events with more than 50 people, until 10 April. On 18 March, St. Petersburg banned events with more than 50 attendees, as also sporting and cultural events.
Closures and restrictions (schools): On 13 March, officials in Moscow advised public schools to shut operations for 2 weeks from 16 March or shift to distance learning. As of 14 March, the Education Ministry advised school officials across Russia to shift students to distance learning if necessary, while officials in Moscow introduced flexible attendance at public schools. As of 16 March, Moscow shut all schools and universities from 21 March to 12 April. The Education Secretary recently announced that Russian schools will go on a three-week vacation from 23 March to 12 April. 
Closures and restrictions (cultural institutions): As of 17 March, the Culture Ministry announced that it would close all federal cultural institutions, from theatres and museums, to symphonies and circuses. Russia has also closed to the public a number of tourist attractions, such as Lenin's Tomb and the Kremlin Wall Necropolis. All football, hockey and basketball games are to be suspended in Russia until 10 April.
Miscellaneous: On 18 March, the Russian government declared "high alert" status for its 85 regions, imposing country-wide measures such as banning large gatherings, moving schools to online classes, and remote working. Visits to inmates in pre-trial detention centres and prisons have also been suspended. 
For further information, click here, here and here. 
---
Conferences
An issue for many residents, policy-makers and the international community involved in Arctic and Antarctic affairs has been the scheduling of conferences. A large number of conferences has been postponed. In March this year, these include the One Health, One Future conference in Alaska and the British Antarctic Survey (BAS) Open Day 'Ice Worlds'.[x] The seventh annual Arctic Encounter Symposium (AES), due to take place in Seattle, Washington, in April, and at which a large delegation from Polar Research and Policy Initiative (PRPI) was to be in attendance, will be rearranged.
Speaking to PRPI, Rachel Kallander, Founder and Executive Director of Arctic Encounter, noted, "We are monitoring the rapid development of this pandemic and will determine dates for the next AES when we have enough information to make an educated decision that will result in a safe and productive convening. At the end of the day, our mission is to raise awareness, engage challenges, and develop solutions for the Arctic through AES's work in the US and with our international strategic partners. I am confident that if we come together now, as a global community, we will beat COVID-19 and emerge resilient with newfound bridges and connections with one another. Quite honestly, that connection could inspire new and innovative approaches to what the world hopes for the Far North."
Other events have simply been cancelled. The 43rd Antarctic Treaty Consultative Meeting in Helsinki, Finland will not take place, with no news as to whether the annual gathering of states party to the Antarctic Treaty will be rearranged. Also not occurring are the meetings of the Scientific Committee for Antarctic Research and the Council of Managers of National Antarctic Programs, both due in Hobart, Australia, in July and August this year.[xi] The same applies to the High North Dialogue in Bodø, Norway. Cultural and sporting events, which have effectively been wiped out across Europe, have also fallen victim, including the 2020 Arctic Winter Games in Whitehorse, Canada.
Some conferences will be held virtually instead – most notably, the Arctic Science Summit Week 2020, originally scheduled for March in Akureyri, Iceland. As the IASC statement issued by Federica Scarpa, ASSW2020 Conference Manager, notes: "In the aftermath of the declaration of a "state of emergency" in Iceland (6 March), and in close cooperation and consultation with the government authorities in Iceland, following the recommendations of World Health Organization, and in the understanding that a growing number of States and organizations worldwide are voluntarily issuing bans on "non-essential" travel, the ASSW2020 organizers have decided that the Arctic Science Summit Week 2020 will be held only online."
While ASSW2020 is still being convened, reworking its agenda has not been without challenge. As IASC Executive Secretary Dr Allen Pope shared, "While there were 50 Arctic science community meetings scheduled, we are moving forwards with a reduced program of 27 meetings online. Online participation will be open to all, with a suggested online registration contribution. An updated calendar is available at https://www.assw2020.is/program/calendar."
---
Research
Scientific research has likewise been affected, although to a lesser degree.
The MOSAiC expedition involves a German research icebreaker Polarstern, trapped in the Arctic sea ice, to carry out a range of studies in the central Arctic during the winter. Led by the Alfred Wegener Institute, the ship has been in operation since October last year, and the crew are rotated every two months. Complementing the above, ship-bound mission flights are used to record atmospheric conditions and ice thickness. One of the crew members on board these flights tested positive for COVID-19, resulting in the cancellation of the flights. The rest of the operation is proceeding as normal, with no researchers affected by the virus.[xii]
Research  – Antarctica
Antarctica remains the last continent not to have recorded an outbreak of COVID-19. The risks to research are apparent in the summer season as there are regular flights to gateway cities for personnel and supplies, alongside internal flights within the continent as scientists travel between stations and the concentration of tourists at coastal sites. Research programmes have taken measures to prevent the spread of the virus in Antarctica, and to avoid disruption to research:
The setting sun heralds the onset of the winter research season, during which staff remain in the close confines of their research stations for up to nine months. Contact with their research programmes would be non-existent during this period anyway, and so disruption should be kept to a minimum.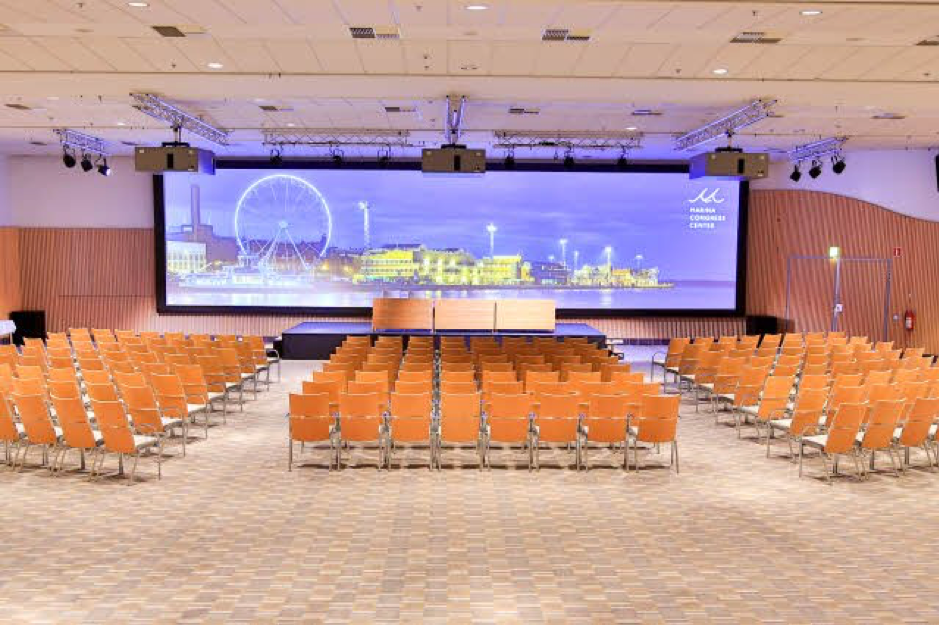 Image: Scandic Congress Center Marina, Helsinki. The venue to the cancelled ATCM 34. Source: Scandic Hotels.[xiv]
---
Trade
The economic impacts of the response to the virus are not yet clear, but there will be a significant impact on a world economy already on the brink of recession. World trade fell sharply in 2019 to reach its lowest growth levels since the global financial crisis in 2009, and while The World Bank forecast that global growth would recover to 2.5% in 2020 (from 2.4% in 2019),[xv] the UN has now warned the economic hit of the virus could total $1 trillion this year.[xvi]
China is the world's largest consumer of seafood, and the response to the virus has dampened demand for fish products, including from Arctic fisheries. It has been estimated that seafood sales in China dropped by as much as two-thirds during this year's New Year celebrations compared to 2019.
Tourism in the Far North has suffered severely, and national responses to the outbreak have had very local effects on visitors. Russia instilled a temporary travel ban on visitors from China on 20 February following the outbreak of the virus. One in five tourists to Murmansk are Chinese, and visits in February from China are expected to have declined by 80%.[xvii] The Russian Association of Tour Operators has said the sector has already suffered over $400 million in losses because of the virus.[xviii] Closures could dent the industry's impressive local development, as the Sápmi region in January 2020 posted year-on-year growth of 12.5% in the number of visitors. As European states and the US continue to close their borders, the effects will soon be apparent in a crash in tourist numbers throughout the Far North.
Shipping overall has been hit hard by the fall in demand for goods, especially from China – the world's largest consumer of many products. Likewise, the availability of crews has slumped as they have faced quarantine periods at port or prior to departure. There are, however, initial signs of recovery, with the week of 2 March seeing a growth in shipping volumes, although demand from Europe and the US is likely to fall as these regions grapple with their own outbreaks.
---
Avoiding Fragmentation
The spread of the virus and its effects on supply chains has illustrated the intensely connected nature of the world economy. The Arctic and Antarctic are not immune. These translate into specific and uneven impacts at the local level, which highlights more fundamental and underlying vulnerabilities in certain areas. Infrastructure in the Far North is one such area of concern.
This was meant to be a 'super year' to protect the climate, biodiversity and oceans. Policy-makers should be meeting in New York at the end of March to discuss marine areas beyond national jurisdiction (also cancelled). COP15 to the Convention on Biological Diversity is still scheduled for October this year in Kunming, China, while the UN Climate COP26 will culminate in Glasgow in November.
Momentum for these conferences will be checked, but it must not be lost. It is rare to have so many high-profile events in close succession with such an influence on long-term climate policy. The Polar Regions have contributed much to their research bases, and shipping, fishing policy and the necessity of countering climate change are all of great importance to both the Arctic and Antarctic.
This is why a concerted, international effort to combat the virus is so important, and the exploitation of this crisis by petty nationalism so worrying. A spokesperson for China's Foreign Ministry added fuel to the fires of conspiracy by tweeting that it may have been the US Army who brought the virus to Wuhan.[xix] The US Administration has in turn sought to blame its usual foes – China, especially, with labels of the 'Wuhan virus' and 'Chinese virus', but also Europe, whereupon a travel ban was announced without notice, which at first did not include the UK and Ireland (supposedly for having secure borders).[xx] Italy's nationalists have been quick to pin the blame on familiar targets – the EU, and migrants arriving from Africa.
Governments must collaborate on best practice and work in coordination; and they should not fall prey to easy protectionism, isolationism (in the international sense) and a hasty blame game. Having a cause and excelling in a spirit of solidarity could prove an important reminder of how states can come together for the other great challenges that we face – climate change, rights and responsibilities in the Far North and biodiversity in the Far South, among many others. The Polar Regions show the necessity for such a response.
All information correct at the time of writing. The report will be updated by the team on a daily basis.
---
---
Max Daniels serves as a Fellow at Polar Research and Policy Initiative. Max graduated with a BA in Human Geography from Durham University. His interests lay in a diverse range of subjects, including political and urban geographies with a cross-disciplinary focus on Arctic governance, while his dissertation analysed the regulatory framework of Antarctic tourism. Following experience in the travel industry, he completed his MA in Geopolitics, Territory and Security at King's College London. He has pursued his studies in international spaces and the poles, with projects focusing on the legal aspects of territorial and border disputes in the Arctic, the Antarctic's environmental geopolitics, and the geopolitics of outer space. He has most recently worked as a staffer for a Member of Parliament in the House of Commons.
Dr Dwayne Ryan Menezes is the Founder and Managing Director of Polar Research and Policy Initiative (PRPI). He is also the Founder and Managing Director of Human Security Centre and Commonwealth Policy Development Centre. Over his academic career, Menezes read Imperial and Commonwealth History at the LSE and the University of Cambridge, graduating from the latter with a PhD in History. Subsequently, he held visiting or postdoctoral fellowships at research centres at the universities of Cambridge, Oxford and London. At present, he is an Honorary Fellow at the UCL Institute of Risk and Disaster Reduction at University College London and an Associate Fellow at the Institute of Commonwealth Studies, School of Advanced Study, University of London. Over his policy career, Menezes has served as Head of the Secretariat of the All-Party Parliamentary Group for Yemen in the UK Parliament (2015–present); Consultant to the Secretary-General of the Commonwealth (2014–2016); Principal Consultant to the European Parliament Intergroup on the Freedom of Religion or Belief (2015–2016) and Research Associate to a UN Special Rapporteur (2013–2014). He is a Fellow of the Royal Historical Society, the Royal Geographical Society and the Royal Society of Arts.