Coronavirus Observatory: Tracking the Pandemic in the Arctic and the Antarctic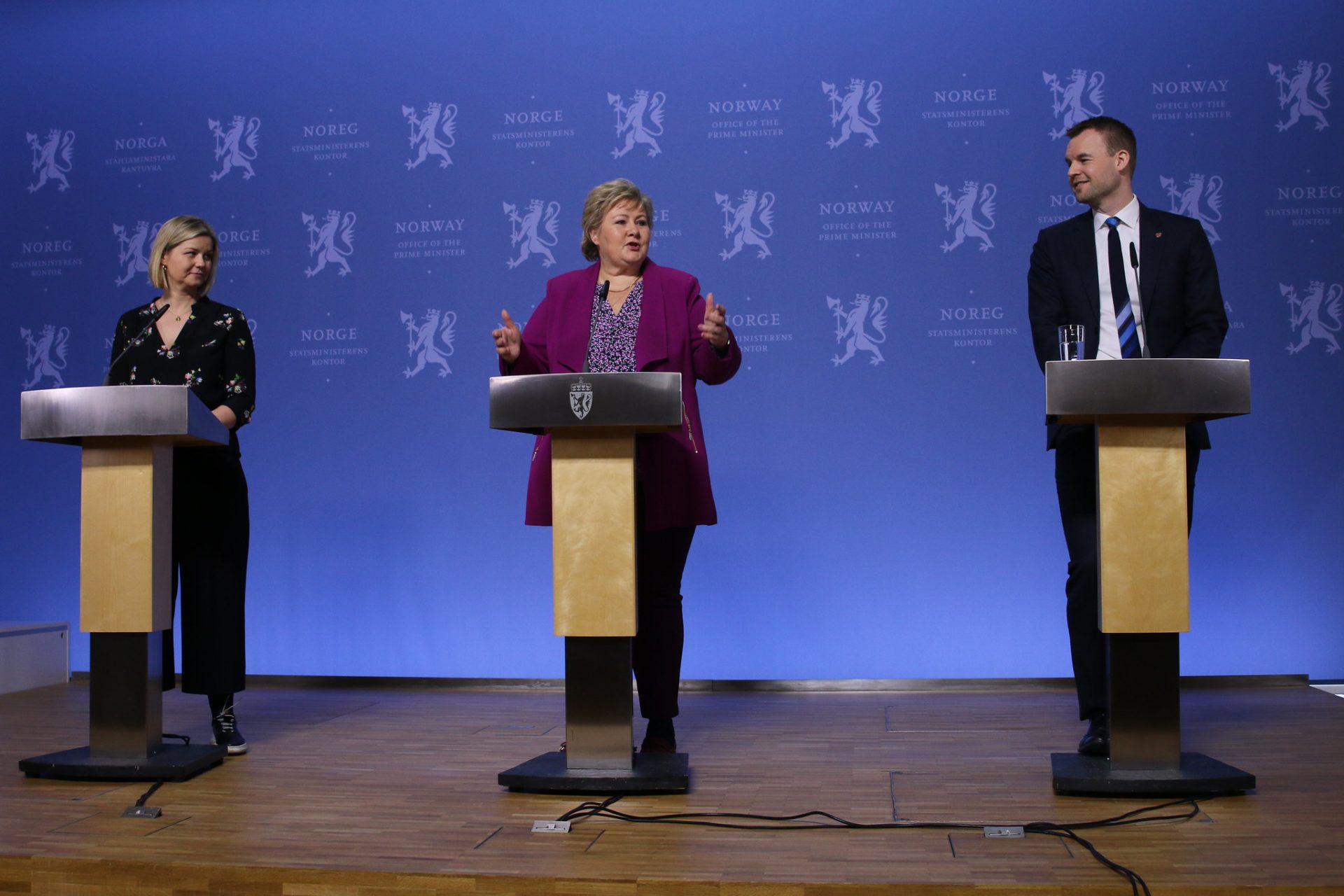 Norway's Prime Minister Erna Solberg discusses the COVID-19 pandemic at the Norwegian Government's press conference for children, 16 March 2020. Photo: Eirin Larsen, SMK (Statsministerens kontor/Flickr).
---
Project Lead: Dr Dwayne Ryan Menezes and Max Daniels
Project Team: Mikhail Radkevitch, Helena Roberts, Shaan Afzal-Khan, Haroon Faqir, Joe Godbold
---
First published: 20 March 2020
Last updated: 01 December 2021
---
This observatory tracks the spread of, and responses to, the Covid-19 pandemic across the Arctic and the Antarctic. The team at Polar Research and Policy Initiative will be monitoring the situation regularly and updating the report three times a day, so stay tuned for the latest figures and measures. The states covered include the US (Alaska), Canada (Yukon, Northwest Territories and Nunavut), Greenland, Iceland, Faroe Islands, Denmark, Norway, Sweden, Finland and Russia.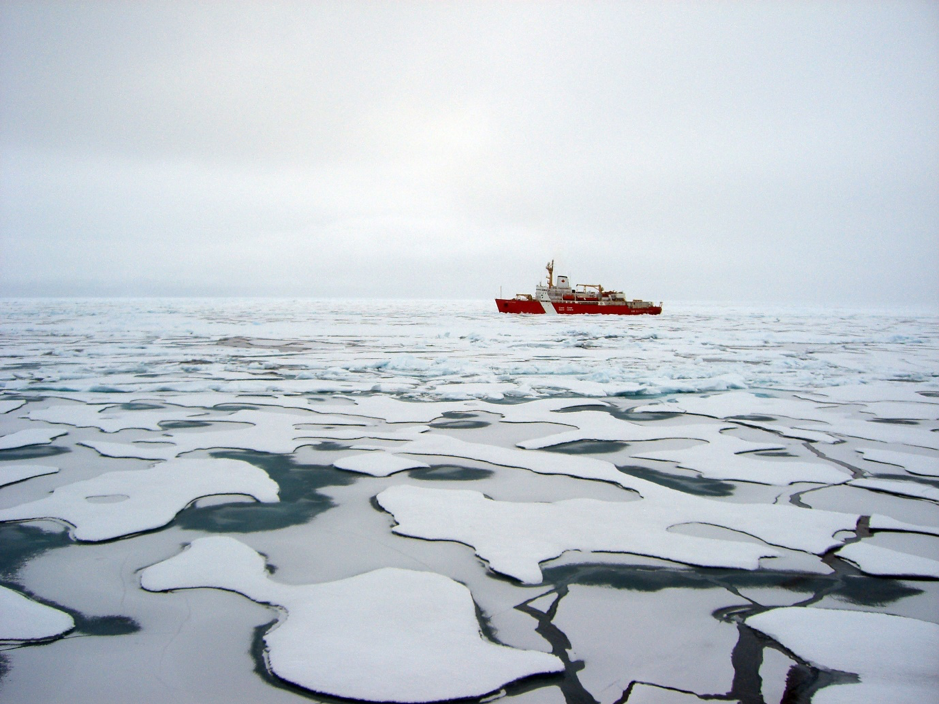 Image: Ocean conferences and Arctic fisheries alike have been disrupted by COVID-19. It risks long-term damage to both. Source: U.S. Office of Ocean and Polar Affairs.[i]
---
Arctic States: Confirmed Cases of COVID-19
Each of the eight Arctic Council members now has recorded cases of COVID-19. Here are the latest figures:
Alaska (US):
145,398 confirmed cases (2,170 in Nome Census Area, 16,719 in Fairbanks North Star Borough, 1,293 in Southeast Fairbanks Census Area, 797 in Yukon-Koyukuk Census Area, 23,929 in Matanuska-Susitna Borough, 11,443 in Kenai Peninsula Borough, 2,555 in Kodiak Island Borough, 60,022 in Anchorage Municipality, 3,874 in Juneau City and Borough, 486 in Petersburg Borough, 577 in Prince of Wales-Hyder Census Area, 1,132 in Sitka City and Borough, 1,934 in Ketchikan Gateway Borough, 6,741 in Bethel Census Area). 848 deaths. 79 currently hospitalised. (Source: DHSS)
Vaccinations (5+): 61% first dose. 55% second dose. (Source: DHSS)  
Canada:
1,792,500 confirmed cases and 29,687 deaths . There have been 1,514 confirmed cases in Yukon (13 deaths), 2,060 in the Northwest Territories (12 deaths) and 674 in Nunavut (4 deaths). (Source: Government of Canada) 
There have also been 987 confirmed cases in Nunavik in Quebec (1 deaths) (Source: Quebec Covid-19) and 41 confirmed cases in the Labrador-Grenfell Health Region, which includes Nunatsiavut (no deaths) (Source: NL Covid-19) 
Vaccinations: Canada – 75.90% fully vaccinated (Yukon – 78.24%, Northwest Territories – 79.53%, Nunavut – 61.00%, Nunavik in Quebec – 50.01%, Newfoundland and Labrador (no regional data available) – 84.32%) (Source: Canada Covid Tracker) 
Kingdom of Denmark: 
Finland:
185,622 confirmed cases (1,589 in Lapland, 10,396 in North Ostrobothnia, 1,096 in Kainuu, 1,452 in Central Ostrobothnia, 2,631 in South Ostrobothnia, 4,319 in the Vaasa region, 5,997 in Central Finland, 3,789 in Northern Savonia, 1,757 in North Karelia, 95,598 in Helsinki and Uusimaa, 7,953 in the Tampere region), 1,309 deaths. 7,896,869 tested. (Source: THL)
Vaccinations (12+): 86.7% first dose. 81.7% second dose.  5.4% third dose. (Source: THL)
Iceland:
13,923 confirmed cases and 34 deaths (Source: https://www.covid.is/data)
Vaccinations: Iceland – 76% fully vaccinated (East Iceland – 77.77%, Greater Reykjavik – 74.47%, North Iceland – 79.75%, South Iceland – 75.68%, Suðurnes Peninsula – 69.17%, West Fjords – 75.70%, West Iceland – 77.13% (Source: covid.is vaccinations) 
Norway:
267,828 confirmed cases (82,609 positive cases in Viken, 69,458 in Oslo, 21,870 in Vestland, 16,450 in Trøndelag, 15,243 in Vestfold and Telemark, 15,168 in Rogaland, 10,946 in Innlandet, 10,006 in Agder, 9,373 in Troms and Finnmark, 6,522 in Møre and Romsdal, 5,473 in Nordland), 1,092 deaths. 8,615,687 tested. 6,227 hospitalised and 1,181 admitted to ICU. (Source: FHI).
Vaccinations (18+): 91.8% first dose. 87.8% second dose. (Source: FHI)
Sweden:
1,207,587 confirmed cases (289,421 in Stockholm, 208,978 in Västra Götaland, 171,873 in Skåne, 46,504 in Jönköping, 45,732 in Östergötland, 44,760 in Halland, 44,338 in Uppsala, 38,744 in Gävleborg, 36,093 in Örebro, 33,216 in Västmanland, 29,422 in Dalarna, 28,779 in Norrbotten, 28,474 in Sörmland, 28,419 in Västernorrland, 27,124 in Västerbotten, 26,847 in Kalmar, 24,034 in Kronoberg, 22,529 in Värmland, 14,076 in Blekinge, 13,488 in Jämtland, 4,736 in Gotland), 15,227 deaths. (Source: C19.SE).
Vaccinations: 7,589,482 (Source: C19.SE)
Russia:
9,500,836 confirmed cases (1,949,474 in Moscow, 591,574 in Moscow Oblast, 789,691 in Saint Petersburg, 76,087 in Kaliningrad Oblast, 66,175 in Pskov Oblast, 90,846 in Leningrad Oblast, 59,813 in Novgorod Oblast, 88,762 in Tver Oblast, 78,447 in Smolensk Oblast, 77,684 in Yaroslavl Oblast, 89,788 in Bryansk Oblast, 59,382 in Kaluga Oblast, 72,763 in Vladimir Oblast, 62,253 in Ivanovo Oblast, 44,824 in Kostroma Oblast, 90,489 in Vologda Oblast, 86,798 in Murmansk Oblast, 83,399 in Republic of Karelia, 114,055 in Arkhangelsk Oblast, 3,228 in Nenets Autonomous Okrug, 90,271 in Komi Republic, 215,055 in Nizhny Novgorod Oblast, 71,876 in Kirov Oblast, 141,465 in Perm Krai, 179,973 in Sverdlovsk Oblast, 81,191 in Tyumen Oblast, 58,577 in Yamalo-Nenets Autonomous Okrug, 89,928 in Khanty-Mansi Autonomous Okrug, 153,348 in Krasnoyarsk Krai, 139,327 in Irkutsk Oblast, 70,717 in Yakutiya, 12,815 in Magadan Oblast, 2,849 in Chukotka Autonomous Okrug, 22,453 in Kamchatka Krai), 271,091 deaths. (Source: JHU).
Vaccinations: 45.7% first dose, 38.9% second dose. (Source: OWID).
---
Arctic States: Measures to Address COVID-19 Pandemic
Alaska
On 14 February 2021, the Alaska Department of Health and Social Services and the Chief Medical Officer of Alaska released a joint health advisory on their recommendations to keep the people of Alaska safe. These recommendations are not legally mandated, but rather reinforce the need for individual responsibility by every Alaskan to stop the spread of the virus. The advisory recommends the following:
Social distancing: Maintain social distance (6ft) between members outside of one's own household. Avoid gatherings indoors, even when social distancing can be maintained, as the virus spreads more easily in less-ventilated areas.
Face masks: Wear a 2-layer face covering which covers both the mouth and nose when out in public. This is recommended to all individuals over the age of 2. Wash your hands or use hand sanitiser upon removing the mask to prevent possible contamination.
Symptoms: Should one develop symptoms, get tested immediately and avoid contact with others. Seek possible medical attention should someone over 65 or with medical conditions test positive. If you test positive or come into close contact with a positive case, regardless of symptoms, one must isolate and get tested immediately.
International travel (as of 26 April 2021): As outlined in Health Advisory 2, Alaska does not require Covid-19 testing for international arrivals. However it is recommended that non-vaccinated arrivals make use of free testing facilities at all major ports across the state. Alaska also offers free vaccinations to non-residents over the age of 12 travelling into the state, as of July 1st 2021. To make use of the free test/vaccination offer, book online here. In the event of displaying a positive test upon arrival, you must isolate at your own expense for 14 days. Those who have tested positive for SARS-CoV-2 within the 90 days prior to travel (and have fully recovered) are recommended to not make use of testing upon their arrival into Alaska. If travelling internationally through Canada or the United States, please note quarantine and testing procedures may be required. If an individual is fully-vaccinated, they are not required to self-quarantine upon arrival into Alaska. An individual is classed as fully-vaccinated two weeks after receiving their second dose in a two-dose series (e.g. Pfizer) or two weeks after their single dose in a single-dose series (e.g. Johnson and Johnson). 
Interstate travel (as of 26 April 2021): As outlined in Health Advisory 3, Alaska does not restrict interstate travel. These freedoms are in place in order to protect the rights of individuals and workers travelling fluidly across the state. Nevertheless, caution is advised when travelling from to and from regions where infection rates are surging. For more information on regional infection rates, click here. For individuals who are unvaccinated and choose not to test before or after travelling, it is recommended to self-quarantine for 10 days upon arrival at one's new destination. Should this not be possible, it is recommended to maintain social distancing and mask wearing when around others.
Critical infrastructure: Employers are encouraged to mitigate the spread of coronavirus in the workplace according to the minimum requirements outlined by the Centers for Disease Control (CDC) and the Occupational Safety and Health Administration (OSHA). However, these mitigations are not legally-binding. For organisations who do not implement mitigation strategies to prevent the spread of Covid-19, business owners must be aware of the possible health and economic impacts an outbreak could cause for their business. As of health-advisories 2 and 3, all travel deemed essential for critical needs will continue. This includes, but is not limited to, child visitations and military relocation. For more information, including quarantine procedures for critical infrastructure workers, click here and here.
Economic measures: In March 2020, Alaska announced the creation of the Alaska Economic Stabilisation Team (AEST) and Governor Dunleavy's 6-point stabilisation plan to support the state. The AEST was a community-led group intended to focus on communicating with the general public and offering services based on community feedback. These consisted of, but were not limited to:

Monthly stimulus packages
Unemployment benefits raised and extended
Waiver for the SNAP programme, whereby a federal plan to remove food assistance for 5,000 Alaskans could be reversed.
Temporary housing and rental vouchers

Alaska's initially successful handling of the pandemic meant they were able to create their Plan Forward, intended to reopen the economy safely. As of Friday 22nd May, Alaska shifted to phase 3/4 and the economy reopened. COVID-19 mitigation responsibilities were placed on the shoulders of individual businesses with measures such as mask-wearing and social-distancing.
Alaska also received federal support from the United States government, more of which can be read about on the IMF website.
For further information, click here, here and here.
Canada
Federal Response (Travel): The Government of Canada has advised Canadians against all non-essential travel outside Canada. All travellers entering Canada, regardless of citizenship and vaccination status must be vaccinated, as of 30 November 2021. A valid Covid-19 test will only be accepted for travel under one of the following reasons: 

Travel from remote communities
Travel for essential medical services and treatment
If Canada is not your final destination
Emergency and urgent travel (including for medical reasons)
Other exceptional travel in the national interest
Medica; inability to be vaccinated
Sincere religious belief
Following arrival, all travellers must submit their quarantine plan to ArriveCAN, including the exception of fully vaccinated travellers, those who have recovered from Covid-19 in the last 180 days, and others on the list of exemptions (Canada quarantine exemptions). Afterwards, if you do not meet the requirements, you must quarantine for 14 days. As of 03 November 2021, Canada has permitted international passenger flight arrivals to land at any of ten airports (Calgary International, Vancouver International, Toronto-Pearson International, Montréal-Pierre Elliott Trudeau International, Halifax Stanfield International, Quebec City Jean Lesage International, Ottawa/Macdonald-Cartier International, Billy Bishop Toronto Centre, Winnipeg James Armstrong Richardson International, Edmonton International). The federal government has also introduced a COVID-19 Emergency Loan Program for Canadians Abroad to assist Canadians return home or deal with other travel-related challenges. Since Monday 4 October 2021, if you have been fully vaccinated for at least 14 days, you need only book and pay for a day 2 COVID-19 test to enter the UK from Canada (see more here). From 30 October 2021, to depart from Canadian airports or travel on VIA Rail and Rocky Mountaineer trains, travellers will need to qualify as a fully vaccinated traveller. (See more here). As of 21 October 2021, a standardised proof of COVID-19 vaccination card is available for residents in territories: Newfoundland and Labrador, Northwest Territories, Nova Scotia, Nunavut, Ontario, Quebec, Saskatchewan, and Yukon (see here), to support the new traveller vaccination requirements mentioned above. Since the emergence of the Omicron variant, additional requirements have been placed on certain countries, from 30 November 2021.
Federal Response (General): On March 18, 2020, the federal government announced a $765 billion COVID Economic Response Plan. Through this Plan, the government has committed over $212 billion in direct support to Canadians and businesses, $85 billion in tax and customs duty payment deferrals to meet liquidity needs of businesses and households, $5.8 billion in support for coordinated federal, provincial and territorial action to strengthen critical health care systems, purchase personal protective equipment and supplies and support critical medical research and vaccine developments, and approximately $14 billion to support provinces and territories in the safe reopening of the country's economies over the next 6 – 8 months. The government has also made $600 billion in liquidity support accessible to help ensure that businesses could continue to access credit and to promote well-functioning provincial funding markets. The federal government has also committed $306 million in funding for Indigenous businesses struggling with the impacts of COVID-19. On 21 October 2021, the Canadian Government announced its budget, aiming to extend the wage subsidy, rent subsidy, Lockdown Support to 20 November 2021, along with 2 new programs – The Tourism and Hospitality Recovery Program and Hardest-Hit Business Recovery Program – to the same date, with the intention to legislate the programs until 2 July 2022. Further propositions include establishing the Canada Worker Lockdown Benefit, and extending the Canada Recovery Caregiving Benefit, the Canada Recovery Sickness Benefit and the Canada Recovery Hiring Program until 7 May 2022. (See here). See all of Canada's economic response measures here. A business support legislation has been taken to parliament to implement the aforementioned measures, on 24 November 2021. Further welfare and social support in work has also been developed via legislation, including increased paid sick pay, protecting care workers, and all in aiming to finish the fight against Covid-19, 26 November 2021.
Aviation: Canadian North and Air Inuit have announced reduced services to Arctic communities. Air Canada is expected to lay off more than 5,100 crew members, amidst cuts to its planned flights by nearly 80%.
Federal Response (North/Territories): The federal government has provided more than $19 billion in funding to provinces and territories in Canada to help tackle COVID-19 as part of the Safe Restart Agreement. The northern-specific response to this crisis has been extensive: from restricting vessel traffic in the Canadian Arctic, including preventing any Canadian cruise ship from mooring, navigating, and transiting Canada's Arctic Waters, to a recent commitment to provide $129.9 million in assistance to the territories during the pandemic. In April 2020 (see here), the federal government committed to:

$72.6 million for health and social services departments to prepare and respond to the crisis

$18.4 million for Yukon
$30.8 million for Nunavut
$23.4 million for NWT

$17.3 million for northern airline companies to ensure movement of essential goods such as food and medical supplies

$3.6 million for Yukon
$5 million for Nunavut
$8.7 million for NWT

$15 million in "non-repayable support" for businesses in the territories will be made available by the Canadian Northern Economic Development Agency (CanNor)
Additional $25 million for Nutrition North Canada to subsidise food and hygiene products in remote northern communities.
On 18 March, 2020, the Government of Canada announced that it would provide $305 million for a new distinctions-based Indigenous Community Support Fund, to address immediate needs in First Nations, Inuit, and Métis communities. 
As of 18 October 2021, the Canadian Government has approved a Request for Federal Assistance in providing surge capacity support to the NWT with infection and control (IPC), contact tracing, and COVID-19 testing efforts, in tandem with the Canadian Red Cross. (See here).
Budget 2021 commits (See here):

A portion of $99.9 million for seasonal pilot workers in Yukon, providing up to 5 additional weeks of EI regular benefits to seasonal claimants.
Renew the Territorial Health Investment Fund ($54 million over two years – $27 million to Nunavut, $12.8 million to Yukon, $14.2 million to NWT)
To support the short-term housing and infrastructure (2021-22) needs after Covid-19 deepened the recession in the North , with $25 million to Nunavut and $25 million to the NWT

Yukon Response:
NWT Response:

Travel: Travel restrictions build on federal guidelines and vary by residency and vaccination status;
Residents: NWT residents who have travelled to other parts of Canada and are fully vaccinated no longer need to self-isolate upon return to the NWT. Fully vaccinated individuals travelling into small NWT communities will require a day 1 entry test and a day 8 exit test (this requirement applies to all travellers regardless of resident status). Small communities are any NWT community that does not include the hub communities of Yellowknife, Hay River, Inuvik, and Fort Smith, as well as Fort Simpson and Norman Wells. NWT residents who have travelled to other parts of Canada and are partially vaccinated need to submit a SIP (self-isolation plan) and can self-isolate for 8 days (they will need a negative day 8 exit test for release). NWT residents who have travelled to other parts of Canada and are unvaccinated should submit a SIP and can self-isolate for 10 days (they will need a negative day 10 exit test for release).
Non-residents: Leisure travel is not allowed at this time in the NWT, however, the following non-resident travellers may qualify for a travel exemption:

Travellers from Nunavut: Travellers applying for this exemption must have been in Nunavut or the NWT for at least the past 14 days. They will not qualify for an exemption if they have transited through another jurisdiction outside Nunavut or the NWT on their way to the NWT.
Booked remote tourism guests: Travellers applying for this exemption must have booked with an approved Remote Tourism Operator. Exempt tourists who have travelled to other parts of Canada (not applicable outside Canada) and are fully vaccinated no longer need to self-isolate upon return to the NWT. 

Closures and Restrictions: In NWT, up to 25 people can gather indoors in one space without an exemption, unless a current public health order stating otherwise is in effect, with 50 allowed outdoors (here). Such temporary restrictions are used to react to Covid outbreaks (see restrictions here). For example, the state of emergency in the City of Yellowknife has been extended until 13 December 2021. The Public Health Emergency for the NWT's has been extended until 07 December 2021. Emerging Wisely 2021 is the NWT's strategy for safely resuming activities that were impacted by the COVID-19 pandemic. To host a gathering of over 200 people or a high-risk activities, OCPHO approval is required and businesses/individuals must apply for an activity exemption. The Government of the NWT stated that it estimates all restrictions to be lifted by mid-late fall 2021. This would mean that there are no self-isolation requirements, travel restrictions or limits on capacity for activities indoors and outdoors.
Vaccinations: As of 01/12/2021, 88.72% of eligible persons in NWT had received one dose of a COVID-19 vaccine while 84.84% are fully vaccinated. NWT will offer third doses of the COVID-19 vaccine to immunocompromised people beginning 20 September 2021 (see here). As of 18 October 2021, the NWT government is introducing a COVID-19 at-home student screening pilot programme, to detect asymptomatic cases of COVID-19 amongst students and respond quickly to reduce risk (see here). The Government of the NWT  (GNWT) implemented amendments, on 01 December 2021, legislating that all GNWT employees need to be fully vaccinated against COVID-19 (see here)
Economic: As of 29 October 2021 additional funding for businesses – up to $12,500 of funding under the Support for Entrepreneurs and Economic Development (SEED) programme for SMEs affected by recent public health measures, and will include funding for equipment, training and new technologies (see here). Additional funding for tourism businesses through the Tourism Restart Programme (one time grant of up to $18,000) to eligible tourism operators and businesses. (See here). The NWT government has announced a new Labour Market Recovery Wage Grant, as of 07 October 2021. Resultantly, eligible non-essential businesses impacted by public health restrictions on gathering sizes (since 01 August 2021) will receive funding of up to $2,000-$10,000 maximum per employee, after application. (See more here)

Nunavut Response:

Travel: In Nunavut, measures include an order for anyone arriving in the territory to go into mandatory self-isolation for 14 days at a Government of Nunavut Isolation site in either Ottawa, Winnipeg, Edmonton or Yellowknife, with certain exemptions (individuals who breach isolation can be fined $575):

A common travel area applies to air and land travel and exempts travellers from isolation requirements. The Common Travel area between Nunavut and Nunavik  was suspended on 29 October 2021 while the Common Travel area with Churchill, Manitoba reopened, 15 November  2021).
As of 14 June 2021 fully vaccinated travellers can apply for an exemption to out-of-territory isolation.
From 1 November 2021, unvaccinated workers travel exemptions will be limited and will have to isolate at an isolation location for 14 days, with exemptions on 2 conditions:   

If there is sudden and severe damage to critical infrastructure or if a replacement is necessary due to unforeseen illness or injury; or
If the worker(s) is bearing a letter from a medical doctor indicating they are unable to get any of the Government of Canada approved COVID-19 vaccinations for a medical reason listed on the vaccine's product monograph. (See here)

Vaccinations: As of 01/12/2021, 76.96% of eligible persons in Nunavut had received one dose of a COVID-19 vaccine while 68.04% are fully vaccinated.
Closures and Restrictions: Nunavut extended the territory's public health emergency until 09 December 2021 This means that all existing measures under the public health emergency order remain in effect, including 2-metre social distancing, restrictions on indoor gatherings for over 15 people (plus household), and  limiting certain indoor events to under 100 people. (see here). However they have been eased in Kinngait and Coral Harbour
Before Yukon, the Northwest Territories and Nunavut had recorded any cases, the Inuit Circumpolar Council had warned that indigenous communities across the North are particularly vulnerable to the effects of the virus, given many do not have running water or sewage systems. In a statement, the ICC said that, "Despite being the original inhabitants of some of the most affluent countries in the world, gaps in basic infrastructure continue to contribute to severe health risks."[ii] Closing this 'infrastructure gap' was an area of discussion at a meeting of the Inuit-Crown Partnership Committee on 6 March, attended by Prime Minister Justin Trudeau (who himself has since entered self-isolation following the positive diagnosis of his wife) and President Natan Obed.[iii] It remains to be seen whether these circumstances will encourage such discussions to transform into action.
For further information, click here and here. 
Kingdom of Denmark
International Travel: New entry rules for travel into Denmark were published on 15 October 2021. These rules have gone into effect since 25 October, and were agreed by a broad majority in the Danish Parliament. The press release is titled: "Agreement on normalisation and simplification of COVID-19 travel rules". The new rules involve fewer restrictions for travellers arriving into Denmark with the remaining restrictions focusing on travellers who are not vaccinated and have not previously been infected. In the EU and Schengen area, people who have been fully vaccinated, people who have previously been infected (with documentation for a positive PCR-test taken more than 14 days, but less than 12 months ago) and people with a negative test are able to travel into Denmark without restrictions. Travellers who do not fall into these categories are required to take a test no later than 24 hours after their entry into Denmark. This requirement will also apply to persons with Danish citizenship or with permanent residence in Denmark when they enter Denmark. The requirements for a legitimate purpose of travel and testing prior to entry were lifted for travel to Denmark from all countries in the world. Fully vaccinated people from OECD countries, countries on the EU's positive list that Denmark has opened for, and countries that are part of the EU COVID Certificate scheme, may enter Denmark without being required to take a test and self-isolate. Non-vaccinated people entering Denmark from countries on the EU's positive list that Denmark has opened for must be tested after they enter Denmark. Travellers from other countries will be required to take a test and self-isolate after entry even if they are fully vaccinated (the isolation can be ended early by a negative PCR-test taken at least four days after your arrival). However, a contingency plan was maintained involving emergency measures should a situation arise in which a new virus variant causes a threat to Denmark and this has now been realised to an extent. The travel rules do not extend to 'countries with variants of concern': Angola, Malawi, Zambia, South Africa, Botswana, Eswatini, Lesotho, Mozambique, Namibia, and Zimbabwe. This is due to recent concerns regarding the Omicron variant. All travel is advised against for these countries, and those coming from these countries will be subject to stricter requirements for testing and isolation. Indeed, the worthy purpose clause and the need for a test before entry still applies to foreigners with a permanent residence in these countries. 
Restrictions: The categorisation of COVID-19 as a socially critical disease expired on 10 September 2021. The government has decided not to extend this due to the success of the vaccination programme and other measures. This categorization is what allowed the government to create a lot of the restrictions, and so practically all of the restrictions in Denmark came to an end apart from the above on international travel. Nonetheless, the Minister of Health had mentioned that "the government will not hesitate to act quickly if the pandemic again threatens important functions in our society". Indeed, this came to fruition on 12 November as in response to rising COVID cases, you must now present present a Corona Passport / COVID Certificate or similar to document that you have been vaccinated, that you have previously been infected with COVID or have a recent negative test to enter restaurants, nightlife, some culture venues. Furthermore, in response to the fears regarding the Omicron variant, you are now expected to wear a facemask in more situations such as inside shops and the COVID passport is also required in more situations such as haircuts. 
Economic measures: Several economic measures were undertaken to safeguard and strengthen the Danish economy through the pandemic (see here for early examples). As Denmark is a member of the EU, the European Commission has also adopted responses under state aid for Denmark (see here). Furthermore, there are still economic measures being taken with an example being the Danish government's budget proposal for 2022 as this includes a Covid-19 war-chest. However, the budget overall is purposely smaller in hopes of not 'overheating' the economy and there has been a scaling back on some of the economic measures given the better position of the economy. Nonetheless, Denmark has reinstated COVID-19 sick leave pay for parents and business due to rising COVID cases in recent weeks. Following the opening-up of the economy, the Danish finance ministry expects GDP growth this year to be 3.8%, up from an earlier estimate of 2.4%. Indeed, the finance minister has mentioned that "economic activity and employment now exceed the level before the outbreak of the coronavirus pandemic".
Greenland: There are still some international travel restrictions in place here. Only fully-vaccinated adults are allowed to travel to Greenland unless you have residence in Greenland or on your way to move to Greenland or you are a child under 15 years of age (children over 2 will still need to provide a negative PCR-test which is at most 72 hours old). When you travel you must fill in and submit the sumut form (www.sumut2020.gl) and bring a receipt. You must have a negative COVID PCR test from either a Nordic country, UK, EU or EFTA that is no more than 72 hours old and bring the documentation for this (written in either Greenlandic, Danish or English). Quarantine and testing upon arrival are no longer necessary for the fully vaccinated. If you have previously tested positive for COVID then you also qualify for these exemptions. Persons who have been infected must be able to show proof of a PCR test that is at least 2 weeks old, but no older than 12 weeks – approved documentation for previous infection is a transcript from the Greenlandic healthcare system or a test from a Nordic country (Denmark, Sweden, Norway, Finland, the Faroe Islands and Iceland), the UK, a country in the EU or EFTA (Liechtenstein and Switzerland). Persons who have not been fully vaccinated must be re-tested on the fifth day after arrival in Greenland. The person is placed in quarantine until this test occurs or for 14 days if the person does not allow a test. There are new domestic restrictions for Nuuk, Upernavik and nearby settlements as of 21 November. For example, vaccine or previous infection documentation is required during stays in most public places with this applying for all people over 2 years of age (children below the vaccination age do not have access unless they have been previously infected). It is no longer enough to have a negative test. This is also true for domestic travel as people aged 12+ who travel from Nuuk or Upernavik to another place in Greenland must, as a rule, be fully vaccinated against COVID-19 (though in this case children and some groups are allowed to travel with a negative test). 
Faroe Islands: The rules for entering into Denmark also apply for the Faroe Islands. Travellers that are unable to present a valid vaccination certificate, a valid COVID test (not older than 72 hours) or a certificate of recovery (within one year) are required to get tested upon arrival. The government of the Faroe islands strongly advises that a follow-up COVID test is taken on the second-day of the stay regardless of vaccination or previous infection status. In response to the Omicron variant, all positive tests from those that arrive from abroad are being gene-sequenced (with this taking up to two days). Thus, quarantine measures are being enhanced – everyone that has been in contact with an infected person (secondary contacts) should now quarantine regardless of their vaccination status and get tested. Those that have been in contact with secondary contacts should also quarantine. This quarantine should continue until both the gene-sequencing results are available and a negative test is registered. 
For further information, click here, here, here, here and here. 
Iceland
International Travel: All travellers (applies to all Icelandic citizens, EEA/EFTA citizens and third country citizens (individuals who are neither citizens of EEA/EFTA states nor citizens of Andorra, Monaco, San Marino or the Vatican – e.g. UK nationals), who are exempt from travel restrictions (see below) MUST upon arrival to Iceland either:

Present a valid certificate of full vaccination against COVID-19 or certificate of previous COVID-19 infection, and a negative PCR or antigen (rapid) test that is no more than 72 hours old before departure to Iceland.

From 30 August 2021: If a traveller has recently been diagnosed with COVID-19 and have a positive PCR test that is older than 14 days (isolation completed) but younger than 180 days, they do not need to present a negative PCR or rapid antigen test at the border. This is the only exception from the duty to present a negative Covid-test upon arrival to Iceland. 

OR – Present a negative PCR test result (no older than 72 hrs at departure),  undergo PCR testing at the border upon arrival, and quarantine for 5 days that ends with a second PCR-test.

As there is now limited access to official quarantine facilities in Iceland – travellers must themselves ensure appropriate housing while in quarantine.

Exemption list: 

Icelandic citizens
EEA/EFTA citizens as well as citizens of Andorra, Monaco, San Marino and the Vatican
Relatives of Icelandic or other EEA/EFTA citizens/residence permit holders or citizens/residence permit holders of Andorra, Monaco, San Marino or the Vatican

Relatives are only exempt from the travel restrictions if they are travelling to Iceland in order to visit a relative who legally resides in Iceland.

UK nationals (and their family members) benefiting from the BREXIT Separation Agreement who have a right of residence in Iceland prior to 1 January 2021.
Foreign nationals with a valid residence permit or another type of right to stay or reside in Iceland or any other EEA/EFTA state or Andorra, Monaco, San Marino or the Vatican.
Foreign citizens that are verifiably residents in and travelling from one of the following countries (list updated 09 September 2021):

Australia, Bosnia and Herzegovina, Canada, Hong Kong (SAR), Israel, Jordan, Kosovo, Lebanon, Macao (SAR), Moldova, Montenegro, New Zealand, North Macedonia, Qatar, Saudi Arabia, Singapore, South Korea, Taiwan, Ukraine, United States of America, Uruguay
Those who are not fully vaccinated or with a confirmed previous infection will need to present a certificate of negative PCR-test before departure, and undergo two PCR-tests and a 5 day quarantine in between tests upon arrival

Foreign citizens who can provide appropriate proof of vaccination against COVID-19 or a prior COVID-19 infection 

People travelling from Greenland can travel without restrictions as it is considered a safe area
Starting on 1 October 2021, all travellers who enter Iceland, and are considered to have close ties within the Icelandic community, will need to undergo an additional COVID-19 test upon arrival in Iceland. They are not required to quarantine, but are asked to limit their interactions in the first few days after arrival. The following groups are considered to have close ties within the Icelandic community are:

Citizens of Iceland
People who live in Iceland
Anyone intending to work or study in Iceland for more than 7 days
People with a permit to work in Iceland, including applicants for such permits
People seeking asylum in Iceland
The families and relatives of those travelling with anyone who belongs to the categories above

Domestic Travel: Passengers who are vaccinated against COVID-19 or have recovered from it are able to fly domestically straight after arrival in Iceland. For passengers undergoing double screening, quarantine is lifted after a negative result from the second COVID test, 5-6 days after arrival in Iceland. During the quarantine period, passengers are not permitted to use public transport, which includes domestic flights.
Closures and Restrictions: From 20 October 2021, the following rules apply, and will remain in force until 18 November 2021:

The general gathering limit is 2,000 people. Children born in 2016 and later are not included in this number.
The gathering limit does not apply to public transport, including domestic flights and passenger ferries.
A 1-meter social distancing rule is in force, which may be waived at seated events. 
There is a requirement to wear face masks indoors wherever it is not possible to maintain the 1-meter rule. Children born in 2006 and later are exempt.
Stores may admit a maximum of 2,000 people, provided that it is possible to ensure a distance of at least 1 meter between persons with no close link between them.
Fitness centres, swimming pools and bathing facilities may operate at their regular licensed capacity. 
Museums may admit their regular licensed capacity, with no more than 2,000 in any given space.
Restaurants, nightclubs and bars may open until 01:00, and guests shall have left the premises by 02:00, admitting up to 2,000 people.
Private gatherings at alcohol licensed premises may continue serving alcohol up to 01:00, but still continue to be open after 01:00.
Performing arts, cinemas and other cultural events may have up to 2,000 persons on stage (i.e. during rehearsals and shows). Up to 2,000 seated attendees may be accommodated in a given area, and they must wear face masks indoors, with the potential for an unlimited number, per the terms outlined in the events section.

Vaccinations: As of 08 October 2021, Iceland has halted its use of the Moderna vaccine, citing issues of cardiac inflammation as the reason for said stop. (See more here)
Events: The 2021 Arctic Circle Assembly (14-17 October 2021) took place as a full scale in-person Assembly in Reykjavík Iceland. 2,000 people can now gather for events in Iceland, with no registration required for this number. Social distancing and mask wearing rules do not apply to seated events, where for standing the 1-metre proximity rule shall apply, and where this cannot be maintained masks will be mandated. An unlimited number of people may attend an event, given participants provide a  negative rapid antigen test 48 hours in advance – where self-tests are not accepted from a Covid-19 test.
Economic measures: Several measures to combat the economic effect of the COVID-19 pandemic have been prolonged by the Iceland government (see here). In relation to investing in Iceland, as a member of the EEA, Iceland adheres to the European State Aid Rules. These rules allow for regional incentives for new direct investment in defined areas. In Iceland, all the regions outside the capital area are generally eligible for regional investment aid. Commission Regulation (EC) No 651/2014, on General Block Exemptions, declares certain categories of state aid compatible with the common EEA market, which Iceland is part of. These include: 

Incentives as Training aid of up to a maximum of 2 million Euros
Incentives as aid to SMEs investment, up to 10% of investment cost in Medium Sized Enterprises or 20% of investment cost in Small Enterprises , with a ceiling of 7.5 million Euros
Incentives as aid to environmental protection investment projects up to a maximum of 15 million Euros.
Norway
On 12 March 2020, Norway announced, in the words of its former Prime Minister Erna Solberg, "the most far-reaching measures Norway's population has ever experienced in peacetime." As of 25 September 2021, however, due to the success of the country's vaccination campaign, the Norwegian government declared in a press release that the country was moving to stage 4 of the reopening plan, namely 'normal everyday life with increased emergency preparedness.' More recently, due to increasing COVID-19 rates in the country, a variety of national and local measures have been introduced since 17 November 2021. More information about these measures can be found here.
International Travel: Following the move to Stage 4, the Norwegian government announced that entry restrictions into the country would be withdrawn in 3 Phases, beginning with Phase 1 from 25 September 2021. In Phase 1 (see here), EEA nationals and people residing in the EEA, as well as those living in the UK, Switzerland, and purple countries can enter Norway. Furthermore, travel quarantine is no longer required for travellers from green or orange areas, or for children under 18 years old; and travellers from red, dark red, purple and grey areas may leave travel quarantine if they test negative no sooner than 3 days after arrival. Since 1 October 2021, determining the colour categorisations has involved individual country assessments based on infection rates and risk. Country assessments are made on a weekly basis with the most recent travel information (applicable for week 29 November – 5 December) available here and here. More recently, from 26 November 2021, Norway is reintroducing stricter entry restrictions including a requirement for travellers to produce documentation confirming a negative COVID-19 test taken prior to arrival into the country, a need for all passengers to complete entry registration, and a duty for those without a verifiable COVID-19 certificate to get tested upon arrival (see here and here). Additionally, following the emergence of the Omicron variant, the Swedish Ministry of Foreign Affairs has advised against all non-essential travel to countries in Southern Africa (see here). With regards to border crossing points, those shut due to the pandemic were reopened from 6 October 2021, provided the municipality had established testing. For specific information about land, airport and harbour border testing and travel information see here, here, and here.
Domestic Travel: All domestic travel has been permitted since 25 June 2021, however infection control measures will be closely assessed. Furthermore, since 19 November 2021 municipalities have been able to use the COVID-19 certificate as a means of minimising transition of the coronavirus, therefore it is advisable to check local authorities' websites prior to travelling to find out whether there are any local measures which could affect travel (see here). Those travelling to Svalbard must quarantine on the mainland before onward travel, if entering Norway from abroad. For more information see here and here.
Closures and Restrictions: Other than required isolation for individuals with COVID-19, all domestic restrictions in Norway were rescinded on 25 September 2021. Therefore, social distancing and curfews at restaurants, cafes and bars were repealed, although businesses were advised to keep good infection control measures (see here and here). Due to increasing rates of infection, however, the national government determined (in a press release dated 15 November 2021) that municipalities with a high infection rate should introduce local measures to suppress outbreaks. As such, it is advisable to check local authorities' websites for more information regarding closures and restrictions. Furthermore, at the national level, the new measures require all unvaccinated individuals over the age of 18 and living with a person infected with COVID-19 to get tested, and advocate for more targeted testing in schools (which continue to follow the red/yellow/green traffic light model).
Events: Since the movement to stage 4 of the reopening plan all event restrictions have been lifted.
Economic Measures: Over the course of the pandemic various economic measures were implemented in Norway. These included but were not limited to: the reduction of the countercyclical buffer to enhance lending; the cash out pay scheme to compensate businesses with a large fall in turnover; the deferral of tax payments for individuals lacking access to finances; and alterations to unemployment regulations. Information about these measures can be found here, here, here and here. The government announced, in a press release on 11 May 2021 (see here), that as the country opened up, it planned to phase out economic compensation, reduce spending, and embark on a program of economic restructuring in the form of a green shift, strengthened international cooperation, and job creation. The former Prime Minister, Erna Solberg, explained in the press release that "with the Revised Budget we strengthen the effort to create more jobs and include more people in the labour market." Norway's National Budget for 2022 was published on 12 October 2021. For information about the National Budget, including the country's economic strategies and figures, click here; and for long term perspectives on Norway's economy, click here. 
For further information about Norway's measures to address the COVID-19 pandemic, click here and here. 
Sweden
International Travel:

Travel Ban: A non-essential travel ban for countries both within and outside of the EU/EEA will remain in place in Sweden until at least 31 January 2022 (see here and here). Persons travelling from Chile, Kuwait, Rwanda, Bahrain, the United Arab Emirates, Argentina, Colombia, Namibia, Peru and Indonesia are exempt from the travel ban, however they must present a negative COVID-19 test upon arrival (see here, here, here and here). Moreover, travellers from North Macedonia, San Marino, Switzerland, Turkey, Ukraine, the Vatican City, Albania, Andorra, the Faroe Islands, Israel, Morocco, Monaco, Panama, the United Kingdom, the United States, Guernsey, Isle of Man, Jersey, Armenia, Georgia, Moldova, New Zealand, Serbia and Singapore are exempt both from the entry ban and the test requirement provided they are able to present a vaccination certificate (see here, here, here, here, here and here). 
Arriving in Sweden: The Swedish Government mandates that incoming travellers must show evidence of a COVID-19 certificate at the border, in line with the EU regulation (see here). This requirement does not apply to entrants from Denmark, Finland, Iceland and Norway. The Public Health Agency of Sweden has also recommended that international travellers aged 6 or above get tested upon arrival to the country, although fully vaccinated persons and those who have travelled in the EU/EEA, Schengen area, and some other countries are exempt (see here, here, and here).

Domestic Travel: Since 15 July 2021, long-distance public transport has operated at full capacity, although commuters are advised to use other transport methods if possible. It is also advised to check local news and regional websites prior to travelling as local recommendations can be introduced at short notice.
Closures and Restrictions: From 29 September 2021, as the country moved to stage 4 of its reopening plan, there was a modification and lifting of most coronavirus restrictions in Sweden. Hence, social distancing measures in restaurants, shops, businesses and bars were rescinded, and the Public Health Agency of Sweden's work from home advice was discontinued. Nonetheless, it was determined that until 31 January 2022 establishments should be set up so as to limit infection (see here). With the situation in Sweden worsening, the Government has taken the decision to extend the Pandemic Act across the country, meaning that additional measures can be implemented when deemed necessary. Notably, testing recommendations and advice on staying at home has been revised since 22 November 2021, in order to limit the spread of COVID-19 and other respiratory tract infections; and the guidelines for contact tracing have been updated since 24 November 2021. Moreover, from 1 December 2021, leisure and cultural activities, trading venues and markets have been recommended to take measures to reduce crowding and limit the spread of infection amongst their customers. For more information with regards to these COVID-19 infection control measures, see here and here. 
Events: Capacity restrictions at public and private events and gatherings have been removed since 29 September 2021. Nonetheless, from 1 December 2021, the government intends to allow the use of COVID-19 certificates as public gatherings and functions in order to limit the spread of the virus among the unvaccinated population. More information about this measure can be found here and here. 
Economic Measures: Although the government's response to the pandemic (in the form of closures and restrictions) led to economic downturn and unemployment, comparatively the Swedish economy coped better than many other European countries and its recovery has been faster (see here). A summary of the measures introduced over the course of the pandemic can be found here. Measures such as loan and credit guarantees, the short term work program, and deferred tax and rental payments were particularly successful in mitigating the effects of COVID-19 on the economy (see here). The short term work programme, for example, covered almost 600,000 jobs in 2020 and provided the unemployed with industry transition opportunities. Looking ahead, the Budget Bill for 2022 (published 20 September 2021) proposes climate-centred economic growth, job creation, and the strengthening of the Swedish welfare system. It advances that spending should be allocated to coronavirus vaccines, testing and contact tracing programs in order to reduce the negative impacts of COVID-19 on the economy, travel, and other key sectors in future. Whilst some of Sweden's COVID-19 measures have been concluded, others remain ongoing including extended purchases of securities; eased collateral requirements when borrowing from the central bank; and a reduced overnight bank lending rate (see here).
For further information, click here and here.
Finland
On 9 September, the Finnish government issued a resolution on an update of the action plan implementing a hybrid strategy to manage the COVID-19 epidemic and reopen the economy. These consist of regional measures to target the worst-impacted regions of the country. Some restrictions still remain in place:
Hygiene: The best way to protect yourself against COVID-19 is to wear a mask and maintain a 2m distance. If you develop symptoms, you must isolate immediately for 10 days. Mask use is still encouraged, especially in crowded and less-ventilated environments.
International Travel: If you are arriving from a low-risk country and can prove that you are fully-vaccinated and/or have tested positive for COVID-19 in the last 6 months, no testing upon arrival is required. If you have taken a negative test 72 hours prior to arrival, or have had a single-dose of the COVID-19 vaccine, then you will need to complete a mandatory test 3-5 days after arriving in Finland. Otherwise, you will need to complete a mandatory first test at the border (no sooner than 24 hours after arrival) as well as a subsequent second test 3-5 days after arrival. Finland has imposed a number of travel restrictions on southern African nations due to the emergence of the Omicron variant. For more information, click here.
Regional restrictions: Currently cases in the southern regions are higher than in northern Finland, and each individual region has their own specific recommendation. Click here to view these recommendations, or here to view regional restrictions on the hospitality sector.
Covid-19 Pass: On 15 October 2021 Finland approved the immediate implementation of EU Digital COVID Certificate. The purpose of the pass is to serve as an alternative to restrictions, and will be implemented in the following areas: restaurants, nightclubs and public events, gyms and other indoor facilities for sports or physical activity, swimming centres and spas, dance halls, spaces used for group leisure activities, amusement and theme parks, indoor facilities for zoos, indoor playgrounds and play centres, and museums, exhibition spaces and other similar cultural venues.  To read the full article on the Finnish government website, click here.
Economic measures: Finland employed a supplementary €398M budget in March 2020 after invoking the Emergency Powers Act to deal with the pandemic:

Social Affairs and Health: 

€12.8M to increase public education and laboratory preparation
€6M research consortium to study the virus
€4M to monitor the extent to which COVID-19 measures are effective.
€5M to participate in COVID-19 vaccine research
€26M for testing equipment and hospital equipment

Companies:

€150M to support industries most impacted by COVID-19 (tourism, supply chain disruptions and creative industries)
€0.5M to improve financial assistance services.

Others:

€5.6M additional support for the police forces.
€3M to fund temporary border control due to EU border closures
€200M unspecified expenditure due to exceptional circumstances.
The full statement can be read here. For an up-to-date account of Finland's fiscal, monetary and macro-financial policy updates throughout the course of the pandemic, see the IMF website.
For further information, click here, here and here. 
Russia
International Travel: Restrictions on international travel were first introduced on 18 March 2020, and some of these still remain. Certain groups are exempt from some restrictions – for example, this may be the case if you are a Russian resident. The list of countries with which the Russian Federation have resumed international air service are: Abkhazia, Austria, Azerbaijan, Albania, Andorra, Armenia, Bahrain, Belarus, Belgium, Bulgaria, Great Britain, Hungary, Venezuela, Vietnam, Germany, Greece, Denmark, Djibouti, Dominican Republic, Egypt, India, Jordan, Iraq,  Ireland, Spain, Italy, Kazakhstan, Qatar, Kenya, Cyprus, Kyrgyzstan, Colombia, Korea, Cuba, Kuwait, Lebanon, Liechtenstein, Luxembourg, Mauritius,  Morocco, Maldives, Malta, Mexico, Moldova, New Zealand, UAE, Peru, Portugal,  Saudi Arabia, Northern Macedonia, Seychelles, Serbia, Singapore, Syria, Slovakia, USA, Tajikistan, Turkey, Uzbekistan, Finland, France, Croatia, Switzerland, Sri Lanka, Czech Republic, Ethiopia, Japan. All arriving passengers must present a negative PCR-test certificate (in either English or Russian) that is dated no more than 48-hours before arrival into your destination (decrease from 72-hours following the Omicron variant). However, if you are arriving from Armenia, Azerbaijan, Belarus, Kazakhstan, Moldova (Rep.), Kyrgyzstan, Tajikistan, Turkmenistan and Uzbekistan and you are not coming from a third country then you must present a negative PCR-test via the 'travelling without COVID-19' app. Those arriving into the airports may be temperature-checked. You may also have to be isolated for 14 days depending on the country you are arriving from, your vaccination status or even potentially your purpose in the country (e.g. if you are arriving for permanent work purposes). Individual cities and regions may set their own policy and so it is advised to enquire prior to travel. 
Domestic Travel: There may be some restrictions regarding movement both intercity and interstate as some regions may require tourists to show evidence of vaccination (it is possible that the only vaccines that are accepted are one of those registered in Russia). Indeed, Khabarovsk is implementing new restrictions from 1 December that involve vaccine passports for internal flights and railways. 
Restrictions: Russia has been one of the worst impacted countries by the pandemic, but it only had one federal six-week long lockdown and has largely shunned the implementation of further restrictions. However, high cases, record number of deaths and a low rate of vaccination led to Russia experiencing something that at least resembled a quasi-lockdown. This was officially called a 'non-working' week and fell between 30 October to 7 November. Nonetheless, some regions have already made use of their devolved power to implement regional coronavirus restrictions such as the Moscow partial-lockdown that started two days earlier than the 'non-working' week. Indeed, regional restrictions are often quite ambitious with an example being the now mandated vaccinations for over 60's in Saint Petersburg. It is important to note that these regional measures can come with little notice and there may be great variance between regions even if they are geographically close to each other and so it is imperative to enquire before visiting (see here for links for regional government sites). 
Economic measures: Several economic measures were undertaken to safeguard and strengthen the Russian economy through the pandemic (see here for the earlier response). Putin has claimed at the Shanghai Cooperation Organisation that around $41 billion was allocated to support the country during the pandemic. However, the pandemic is not over in Russia and some measures are still taking place, for example: "Prime Minister Mikhail Mishustin signed an order to allocate more than 5.1 billion rubles for free medicines for patients with coronavirus". Furthermore, the "Russian government has allocated 56 billion rubles to help regional health systems", "the government allocated more than 47 billion rubles for temporary disability benefits" and "the government will send 69 billion rubles to the regions for payments to doctors fighting against COVID-19" – the aim for all three of these recent measures is to help the worsening epidemiological situation in the country. The Bank of Russia has claimed that the Russian economy has already reached its pre-pandemic level in Q2 2021 while the Russian Prime Minister has stated that GDP growth is expected to be 4.2% this year suggesting that "the anti-crisis measures have shown their effectiveness" – thus, it is possible that the turn for the worst in the battle against COVID in Russia will change some of these predictions and outcomes. 
For further information, click here, here and here. 
Antarctica
Antarctica remained the last continent not to have recorded an outbreak of COVID-19 until 58 people were infected on 21 December 2020. The site of the outbreak was the Chilean military base, Base General Bernardo O'Higgins Riquelme (in continental Antarctica), and on board the navy ship 'Sargento Aldea'. The general risks of COVID-19 to research are apparent in the summer season as the population in the Arctic increases due to regular flights to gateway cities for personnel and supplies, alongside internal flights within the continent as scientists travel between stations and the concentration of tourists at coastal sites. Research programmes have taken measures to prevent the spread of the virus in Antarctic, while there has been no public reference to the possible effects of the virus on the fauna of the place:
Argentina: Argentina has six permanent bases in its Antarctic territories and took extensive measures to prevent the spread of COVID-19 including tasks of disinfection, reduction of cargo flights and restriction of contact with base personnel from other countries. For example, aircraft crews unload the packages on the runway so that the base crew does not have contact with anyone from the outside. For tourists, travel to Argentina is off-limits, while nationals and permanent residents wishing to travel must present a negative PCR test taken within 72 hours before departure.
Australia: In February 2021, the Australian Antarctic Division cancelled a number of flights to its Wilkins Aerodrome, and prevented tourists from visiting the research station at Macquarie Island. However, this summer there will be 10 Airbus A319 and six C17-A cargo flights to Australia's Wilkins Aerodrome this summer, with the first flight scheduled in November. The 2021-2022 summer season will see about 500 expeditioners travel south to undertake research or support our scientists as part of the Australian Antarctic Program. This includes transporting 800 tonnes of equipment and machinery to Casey research station. Australia's new icebreaker RSV Nuyina is fully prepared for a COVID-19 outbreak with a state-of-the art PCR testing system for COVID which has a turnaround time of 40-50 minutes from patient to result. The ship's medical facility has an emergency room, operating theatre, X-ray machine, consulting room and a 2 bed ward, all with telemedicine links, situated on the same level as the helideck for ease of patient transport. More information can be found here. Australia's new icebreaker ship RSV Nuyina has finally arrived in Hobart, but residents were no longer allowed to greet the ship due to a 3-day lockdown imposed in the region. (See here).
Chile: Chilean nationals were the first nation to contract COVID-19 in the Antarctic in December 2020. At least 36 people, including 10 civilians and 26 officers of the Chilean Army and Chilean Navy, were confirmed as positive for COVID-19 after contracting the virus on the Base General Bernardo O'Higgins Riquelme (in continental Antarctica), where they were doing scheduled maintenance work for the base. The people developed symptoms for COVID-19 aboard the Sargento Aldea ship, and most of the cases were treated after arriving to their destinations in Punta Arenas and Talcahuano. On 18 March 2021, the Chilean Air Force announced they inoculated 49 members of their staff in Antarctica, being the first country to start vaccinating against COVID-19 in the continent. Restrictions to Antarctica are related to domestic Chile border policy. Entry to Chile has been restricted since July 2021, unless a Special Entry Permit ('Salvoconducto') is issued by a Chilean Consulate to grant entry. Those permitted are subjected to a 7-day quarantine period and are required to provide proof of a negative PCR test taken 72 hours before departure, complete a health form and have travel insurance to cover the cost of covid-related health care, up to $30,000.
China: China has built four Antarctic stations in 30 years since joining the Antarctic Treaty in 1983, and has a fifth station, near the Ross Sea, that will become operable in 2022. China is expanding its fishing operations in the Antarctic with the largest Antarctic krill-fishing boat in the world to be completed by 2023, allowing it to access a krill-oil market that is expected to be worth more than $400 million by 2025.
Falkland Islands: Local authorities have put in place measures to prevent the spread of the virus. Visitor permits will no longer be granted, although there are exemptions for returning residents, those with work permits and military personnel. The exemption list for visitor permits has recently been expanded to include public diplomacy guests and scientists and researchers who are supported by the Falkland Islands Government. These visitors will still be subject to the same quarantine requirements that apply to all other visitors; they must complete a 10-day quarantine upon arrival (there is a test to release scheme on Day-5 or Day-8 depending on vaccination status). There have only been 69 confirmed cases of COVID-19 on the Island, with no active cases. More information can be found here.
France: In June 2021, France organized the Antarctic Treaty Consultative Meeting but due to the global health crisis, all of the delegations were not able to travel to Paris in June and so, the Meeting was held by videoconference. The French Polar Institute Paul-Emile Victor (IPEV) plays a central role in France's action in Antarctic and is responsible for selecting, coordinating, supporting and implementing French scientific projects in Antarctica and ensures the operation of two stations in Antarctica: the French Dumont d'Urville Station and the Concordia Research Station. The missions were disrupted in 2020/2021 season but plans are in place to increase the number of staff at the bases for the upcoming season.
India: The National Centre for Polar and Ocean Research is the body responsible for India's actions in the Antarctic and operates two permanent bases on the continent. The country's 39th Antarctic expedition was put on hold in 2020 due to COVID-19 as 28 scientists were stuck in Cape Town, South Africa in quarantine. A fresh Indian team of scientists have reached Antarctica to study climate and greenhouse gases, following a period of quarantine in Cape Town, 16 Nov 2021.
New Zealand: The first cohort of Scott Base staff flew out of Christchurch on 24 September 2021 for Antarctica – marking the start of New Zealand's 2021/22 summer season. These staff members are essential to running Scott Base safely and the organisation has gone to great lengths to ensure they arrive in Antarctica COVID-19 free by adding a two-week isolation period and multiple COVID-19 tests to Antarctic pre-deployment. Antarctica New Zealand has organised accommodation in Canterbury to ensure all people flying south are completely isolated before travel. Once at Scott Base, there is a carefully planned system every time a new cohort arrives. This means masks and physical distancing are the new norm on base. This summer Scott Base staff will work in Antarctica for the next five months, while twelve staff will stay on throughout winter until October 2022. Due to COVID-19, fewer people will travel south this season compared with 'normal' years. Researchers begin to arrive next month, allowing New Zealand's world-leading climate change science to continue on the ice. Updates can be found here. Antarctica is the last COVID-19 free place on Earth, a critical challenge to ensure the stations based there remain ice supplied , maintained and safe, and to keep the science on track. The New Zealand Ministry of Foreign Affairs has also secured a number of rooms for people within the territory over the coming months (See here). New Zealand is spending ~$1 million to keep its Scott Base facility in Antarctica Covid-19 free, by building isolation spots. (See here)
Norway: The Norwegian Polar Institute (NPI) operates a weather station at Troll Research Station in Antarctica, in collaboration with the Norwegian Meteorological Institute. In running Troll Station, the NPI has many commitments to consider in the context of an ongoing global pandemic. In terms of changing personnel at the station, travels by airplane and ship will take place under the guidance of Tromsø municipality's top infection control officer, Trond Brattland, and the Infection Control Centre at UNN. Quarantining will be undertaken in accordance with recommendations from infection control experts, and special measures will be followed to minimize the risk of infection all along the way. 
Russia: Despite COVID-19, Russia is expanding its presence in the region with Russia's state-run geological surveyor, Rosgeologia, reporting that it had already begun its first seismic survey in the area in more than 20 years. While other countries scale back their operations in the Antarctic due to the pandemic in 2020, one of the Russian navy's research vessels, the Admiral Vladimirsky, arrived on the continent in May of that year to locate the South Magnetic Pole's current point. 
United Kingdom: The British Antarctic Survey (BAS) has screened scientists and visitors to their research stations prior to departure, with those showing symptoms asked to isolate for 14 days prior to departure and visitors are being strongly encouraged to get fully vaccinated before visiting due to the limited healthcare facilities in the Antarctic. Travellers returning to the UK from the British Antarctic Territory are required to follow the rules for a 'green' list country; a Day-2 test for fully vaccinated persons or a Day-2 and Day-8 test plus 10 day quarantine for unvaccinated persons. The BAS is continuing its strategic partnership with the Falkland Islands and will be transiting over 200 staff through the Falkland Islands over the 2021/22 season, as regular logistics routes through South America remain disrupted due to Covid-19. On the 7th of October, 2021, 23 Scientists at the British Antarctic Survey Research Station were delivered and vaccinated with the AstraZeneca Covi-19 vaccine, flown more than 9,000 mile – the furthest South any vaccine from the UK has travelled. See more here.
United States: United States Antarctic Program (USAP) policy does not currently require deployers to be vaccinated against COVID-19; testing and quarantine protocols enacted last year to ensure the virus is not transported to our stations will continue. The number of deployers that will be permitted into the United States' Antarctic gateways will once again be significantly curtailed due to ongoing border restrictions. The stricter Physical Qualification guidelines instituted previously will remain in force to protect those severely at risk from COVID-19, and any vaccination information a deployer wishes to provide to our medical team will be appropriately considered. More information can be found here. As of 14 Nov 2021, America's only heavy coast guard icebreaker is heading back to Antarctica, following last year's Covid-19 induced detour.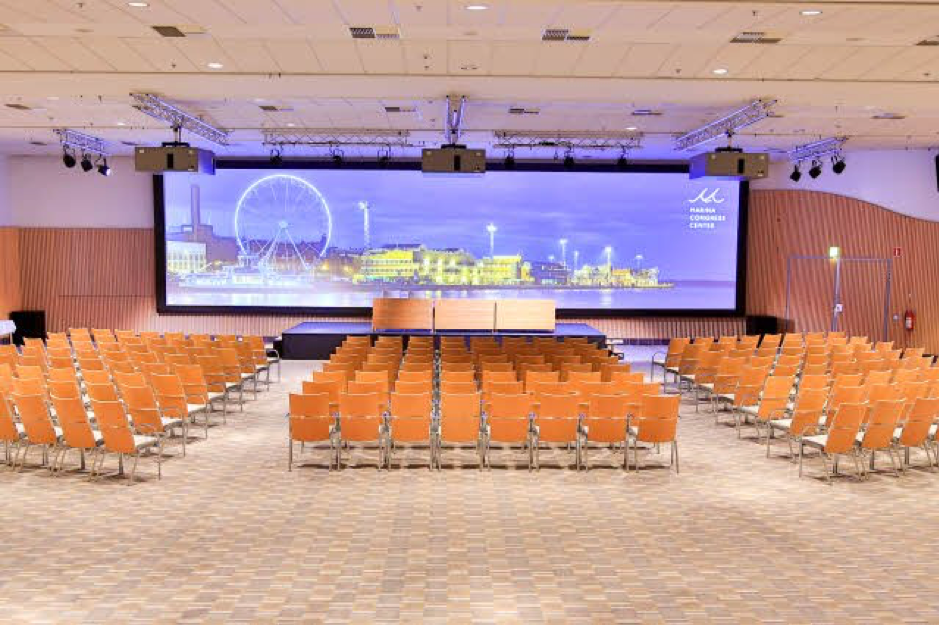 Image: Scandic Congress Center Marina, Helsinki. The venue to the cancelled ATCM 34. Source: Scandic Hotels.[xiv]
---
Avoiding Fragmentation
The spread of the virus, and its effects on national and regional economies, livelihoods, supply chains, infrastructure and mobility, has illustrated the intensely connected nature of the world economy. The Arctic and Antarctic are not immune. These translate as specific and uneven impacts at the local level, which highlight more fundamental and underlying vulnerabilities in certain areas. Infrastructure in the Far North is one such area of concern. This is why a concerted, international effort to combat the virus is so important, and the exploitation of this crisis by petty nationalism worrying. A spokesperson for China's Foreign Ministry added fuel to the fires of conspiracy by tweeting that it may have been the US Army that brought the virus to Wuhan.[xix] The Trump Administration sought to blame its usual foes and even friends – China, with labels of the 'Wuhan virus' and 'Chinese virus', and also Europe, whereupon a travel ban was announced without notice, which at first did not include the UK and Ireland (supposedly for having secure borders).[xx] Italy's nationalists were quick to pin the blame on familiar targets – the EU, and migrants arriving from Africa.
Governments must collaborate on best practice and work in coordination; and they should not fall prey to easy protectionism, isolationism (in the international sense) and a hasty blame game. Having a cause and excelling in a spirit of solidarity could prove an important reminder of how states can come together for the other great challenges that we face – climate change, rights and responsibilities in the Far North and biodiversity in the Far South, among many others. The Polar Regions show the necessity for such a response.
All information correct at the time of writing. The report will be updated by the team on a weekly basis.
---
---
Max Daniels serves as a Fellow at Polar Research and Policy Initiative. Max graduated with a BA in Human Geography from Durham University. His interests lay in a diverse range of subjects, including political and urban geographies with a cross-disciplinary focus on Arctic governance, while his dissertation analysed the regulatory framework of Antarctic tourism. Following experience in the travel industry, he completed his MA in Geopolitics, Territory and Security at King's College London. He has pursued his studies in international spaces and the poles, with projects focusing on the legal aspects of territorial and border disputes in the Arctic, the Antarctic's environmental geopolitics, and the geopolitics of outer space. He has most recently worked as a staffer for a Member of Parliament in the House of Commons.
Dr Dwayne Ryan Menezes is the Founder and Managing Director of Polar Research and Policy Initiative (PRPI). He is also the Founder and Managing Director of Human Security Centre and Commonwealth Policy Development Centre. Over his academic career, Menezes read Imperial and Commonwealth History at the LSE and the University of Cambridge, graduating from the latter with a PhD in History. Subsequently, he held visiting or postdoctoral fellowships at research centres at the universities of Cambridge, Oxford and London. At present, he is an Honorary Fellow at the UCL Institute of Risk and Disaster Reduction at University College London and an Associate Fellow at the Institute of Commonwealth Studies, School of Advanced Study, University of London. Over his policy career, Menezes has served as Head of the Secretariat of the All-Party Parliamentary Group for Yemen in the UK Parliament (2015–present); Consultant to the Secretary-General of the Commonwealth (2014–2016); Principal Consultant to the European Parliament Intergroup on the Freedom of Religion or Belief (2015–2016) and Research Associate to a UN Special Rapporteur (2013–2014). He is a Fellow of the Royal Historical Society, the Royal Geographical Society and the Royal Society of Arts.
Helena Roberts is a Global Leadership Fellow at Polar Research and Policy Initiative. She is an Economics and Politics graduate from the University of Leeds, and last year, she completed an Erasmus study abroad year at IE University in Madrid. While there, she took modules in energy transition and sustainable production. Helena is passionate about climate change, international relations and human rights and intends to pursue a career in environmental policy or humanitarian aid work.
Shaan Afzal-Khan is a Global Leadership Fellow at Polar Research and Policy Initiative. He recently graduated from the University of Glasgow following the completion of a degree in politics. His dissertation on Voter Suppression in the United States demonstrates his deep interest in international affairs. He joins the Polar Research and Policy Initiative in the hope of gaining insight into how individuals and organisations can make the world a better place.
Joe Godbold is a Global Leadership Fellow at Polar Research and Policy Initiative. He is a Politics (BA) and Environmental Change and International Development (MSc) graduate from the University of Sheffield.